A bowl of warm soup, with steam rising off it and scenting the room with an enchanting aroma, during the winter is some kind of magical. You almost feel giddy as you grab the bowl, clamping your hands around it for warmth. For some strange reason, perhaps a childlike notion, you feel as though your mom made it for you…and that makes it taste even better.
Soups are often rich in nutrient-dense vegetables, and the slow cooking helps these ingredients retain their nutritional value. Not only is soup easy to digest, but it is also a low calorie meal that works to keep you satiated without consuming excess calories. Unless your soup is chock full of cream, butter, sodium, or other unhealthy ingredients, most soup recipes are beneficial for healthy digestion because of their high-fiber content.
Do not waste your time opening a can of soup and warming it up in the microwave or in a pot on the stove. February 4th is National Homemade Soup Day, not I Opened A Can Of Soup And Ate It Day (not a real thing). There is an incredible amount of homemade soup recipes that contain different flavors from around the world. From chowders and bisques, to immune-boosting broths and creamy soups, there is no excuse for you not finding a recipe. We even provided recipes to inspire you to get your soup on today!
Roasted Butternut Squash And Carrot Soup: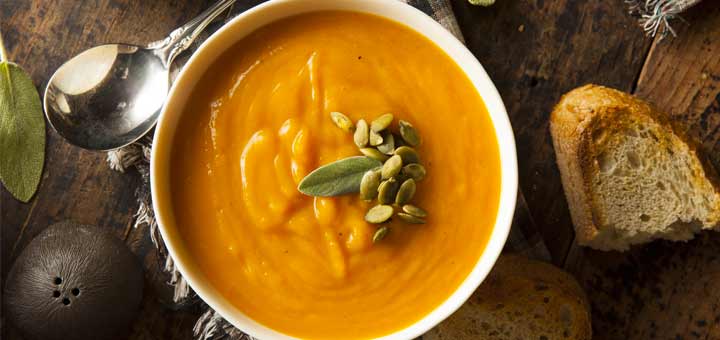 Winter is here and so is an abundance of squash! Try one of our favorite squash recipes by indulging in this soup.
Click here to make the recipe.
Keto-Approved Detox Broccoli Soup:
The ketogenic diet is probably one of the hottest topics in the health world right now. This tasty soup is not only keto-approved, it's vegan too!
Click here to make the recipe.
Moroccan Sweet Potato And Lentil Soup:
Let this Moroccan soup warm your soul during the cold weather. It's one of the easiest meals you'll ever make in the slow cooker.
Click here to make the recipe.
Sources:
https://nationaldaycalendar.com/national-homemade-soup-day-february-4th/
http://www.gone-ta-pott.com/national_homemade_soup_day.html#.XFTZ_M9KiV4
2019-02-04T17:56:48+00:00