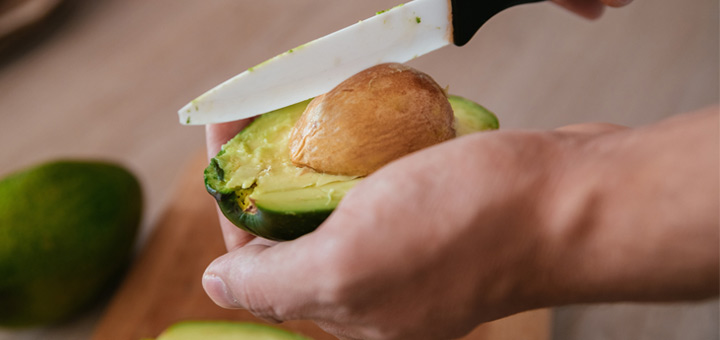 How do we eat avocados? Some of us like them on sandwiches, mashed up into guacamole, and others like cutting them in half, seasoning with sea salt and pepper, and going to town with the spoon. Avocados can be used in many different ways, so here are 5 creative recipes that feature avocados.
#1: Avocado Dressing
You haven't lived until you've drizzled creamy avocado dressing on your salads. It's like a healthier version of Ranch dressing, which, between us, has set the health bar pretty low. Here's what you'll need:
½ avocado
¼ cup olive oil
½ cup cilantro
juice of 1 lemon
½ teaspoon cumin
½ teaspoon black pepper
½ teaspoon sea salt
Blend it all up and you've got yourself heaven in dressing form.
#2: Avocado Fries
We aren't talking about French fries topped with avocado slices. No, no, these are actual avocado fries! The outside gets so crispy and then you get that classic avocado creaminess once you take a bite. The recipe calls for:
2 firm avocados
5 cup panko breadcrumbs
½ teaspoon sea salt
¼ teaspoon black pepper
Olive oil
First, you have to heat your oven to 350. Slice your avocados into thin strips and place them in a bowl with the panko breadcrumbs, sea salt, and pepper. Once the pieces are evenly coated, place slices on a baking sheet coated in olive oil and bake for 20-25 minutes. Remove from the oven and go to town.
#3: Avocado Pit Smoothie
Normally we just throw avocado pits away, but stop because they are actually great for healthy digestion. They give you a bunch of fiber, which keeps you feeling full so you won't eat as much. You'll need:
2 cups unsweetened almond milk (or homemade)
1 cup blueberries
1 medium banana
1 avocado pit
1 scoop vanilla protein powder (optional)
Blend it all together until you have the consistency you desire. Enjoy!
#4: Avocado Pickles
You might be saying, "Avocado pickles? What?" Oh yes indeed. Pickling is a popular trend right now, and it's a super creative way to use avocados. Here's what you have to do:
1 cup water
25 teaspoons sea salt
½ teaspoon whole black peppercorns
½ teaspoon chili flakes
2 firm avocados
You can add fresh herbs or other spices if you feel like adding more flavor. Whisk the water, salt, black peppercorns, and chili flakes in a bowl. Slice the avocados into ½" thick strips, place them in a mason jar, and pour the liquid in. Cover the jar and let the pickling magic happen. Refrigerate it for 2 hours and then have at it.
#5: Sweet Avocado Toast
This is the best, and we repeat, the best breakfast for avocado lovers. Avocado is like camouflage: it blends in with every flavor. Here's what you'll need
1 slice of multi grain bread
2 tablespoons plain, no-fat Greek yogurt (unsweetened)
1 teaspoon agave
¼ teaspoon vanilla extract
½ medium avocado
Sea salt to taste
First thing's first. Toast that bread until it's nice and crispy. While the bread is toasting, mix the yogurt, honey, and vanilla in a small bowl. Slice the avocado into thin strips. Spread the yogurt on the bread, top with avocado slices, and take your first bite.
2022-11-30T05:00:05-07:00