It's a well known fact that adding avocado to, well, pretty much anything is a great decision. Be it a sandwich, burrito, taco, Buddha bowl, salad, or smoothie, avocados elevate the dish, taking it to a new flavorful dimension. Not to mention the fact that avocados contain an assortment of beneficial nutrients that promote heart, brain, and immune health.
Avocado Nutrition
Nutritious, versatile, and tasty, avocados exhibit an array of vitamins, minerals, healthy fats, protein, and more. Technically a fruit, avocados are an integral component of Mexican, Central American, and South American cuisine. People incorporate them into dishes like tacos, salsas, sauces, spreads, dips, and more. According to food data, a single seven-ounce avocado exhibits the following nutrients:
322 calories
30 grams of fat
14 grams of fiber
4 grams of protein
17 grams of carbohydrates
22% of the daily value (DV) of vitamin C
35% of the DV of vitamin K
41% of the DV of folate
28% of the DV of vitamin E
14% of the DV of magnesium
22% of the DV of niacin (B3)
21% of the DV of potassium
30% of the DV of pyridoxine (B6)
12% of the DV of manganese
As you can see, avocados are very nutritious fruits with high amounts of healthy fats and fiber. The monounsaturated fatty acid, oleic acid, in avocado is a heart-healthy fat that works to reduce cardiovascular inflammation. The beta-sitosterol, plant version of cholesterol, in avocado helps to naturally lower cholesterol levels. The lutein and zeaxanthin antioxidants in avocado also work to promote healthy vision. These antioxidants help protect the tissues in your eye from UV light damage, and may even decrease the risk of cataracts and macular degeneration. Additionally, the potassium in avocados is great for naturally lowering blood pressure. Research states that potassium works to lower sodium levels in the blood, easing tension on the blood vessel walls.
Avocados In Smoothies
It may sound odd, but an avocado in your smoothie provides a luxurious, creamy texture with a clean taste that doesn't overpower other ingredients. In fact, most people don't taste avocado if it is in a smoothie. Using other powerful flavors helps to hide avocado's flavor, which isn't powerful to begin with. You can easily hide it with raw cacao powder, banana, blueberries, mango, pineapple, and more. Just make sure that you don't add underripe avocado cubes to your smoothie because that slightly bitter flavor will come through. Enjoy the following avocado smoothies and let us know how you like them in the comments below.
Blueberry Avocado Detox Smoothie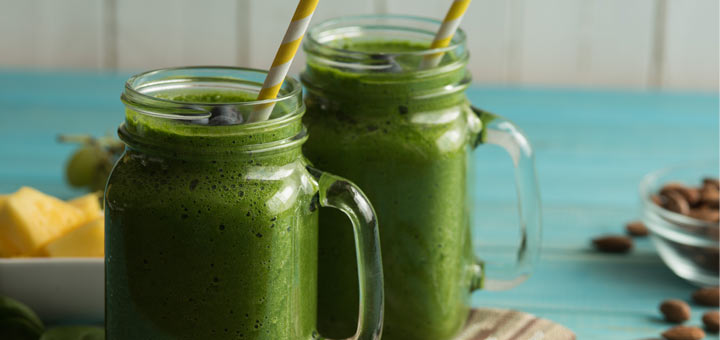 This smoothie is all about the green…vegetables! Containing healthy fats and plant protein, this is a great smoothie for our cleansers.
Click here to make the recipe.
Chocolate Avocado Smoothie
Do you want a chocolate milkshake for breakfast? Well, you can't have one while cleansing, but this is the next best thing!
Click here to make the recipe.
Spinach Avocado Smoothie
Take your smoothie game to the next level when you drink this nutrient-dense, spinach avocado blend. It's great for breakfast.
Click here to make the recipe.
5-Ingredient Avocado Smoothie
Load up on magnesium, potassium, and omega-3 fatty acids when you gulp down this tasty smoothie that only contains five ingredients.
Click here to make the recipe.
Tropical Smoothie With Avocado
Looking to get an extra dose of heart-healthy fats and omega-3s? Make this avocado smoothie for breakfast to boost your energy levels.
Click here to make the recipe.
2022-05-29T23:37:03-07:00