Gentlemen…listen up because it's time to discuss your hygiene routine. Getting out of bed and throwing yourself together in a matter of minutes is only acceptable for so long. That phase is not only worn out, but it is also not the best way to care for your skin and hair. This doesn't mean that you have to drop stacks of cash on hygiene products; rather, you can throw together some all natural products with affordable and healthy ingredients.
The majority of skin care commercials or ads are geared towards women, but men also require skin care products. The most common men's hygiene products that get advertised are shaving creams, face washes, or shampoos. Well, that's simply not enough, and most of these products are far from natural. You, men, deserve to give your skin, beards, and hair more love, which is why we have put together some of our favorite DIY men's hygiene products.
Make these products and share them with your bearded brethren or shaven friends. The best part about these products, aside from the fact that they are 100% natural, is that they are so easy to make. Stay handsome, gentlemen, and enjoy the following hygiene products. Let us know how you like them in the comments.
DIY Men's Body Wash:
Most guys do not take the time to sufficiently hydrate their skin, but this body wash takes care of that. The coconut oil and essential oils help to maintain healthy skin cell production and fight acne as well.
Click here to make the body wash.
DIY Rosemary Pine Bear Balm: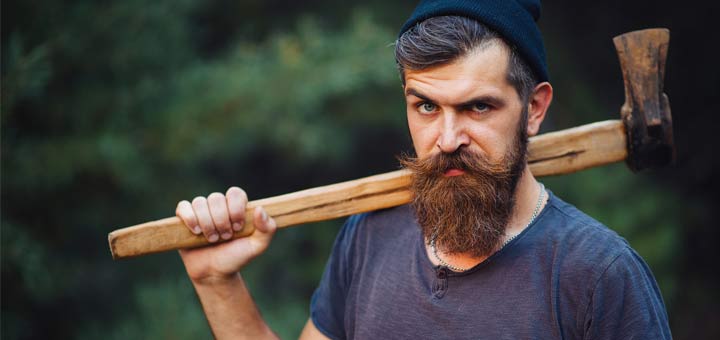 Guys, it's important that you wash your beard and use a balm that helps to moisturize and condition the skin underneath. You don't want to be the guy with the unkempt beard that is flaky and smelly. Use this balm for optimal beard health.
Click here to make the beard balm.
Chemical-Free Moisturizer:
Moisturizers are essential if you don't want dry or flaky skin. Not only does this moisturizer help to balance the skin's pH level, but it also works to balance oil production and get rid of bacteria in clogged pores.
Click here to make the moisturizer.
4-Ingredient DIY Beard Oil:
As we mentioned before, beard hygiene is necessary, especially if you don't want to look like Hobo Joe from The Muppets. You'll love the scent of this beard oil, which helps to strengthen the beard and moisturize the skin under the beard.
Click here to make the beard oil.
DIY Scalp Serum To Help Grow Your Hair:
Men are used to losing their hair, and many try various products or outlandish techniques to assist with hair growth. Most of these efforts don't pan out, but this scalp serum contains powerful ingredients that help stimulate hair growth.
Click here to make the serum.
Sources:
https://inhabitat.com/diy-homemade-all-natural-personal-care-products-for-men/
https://mashable.com/2015/03/28/diy-mens-skincare/
https://104homestead.com/manly-post/
2022-01-18T05:07:32-07:00