Pumpkin is back, people, and the advertisements for this glorious fall and winter squash have only just begun. Seeing pumpkin spice lattes, pumpkin pies, or pumpkin breads gets some people excited. It indicates that summer is ending and fall is approaching. With the onset of fall comes major festivities, including Halloween, Thanksgiving, and then Christmas to start winter.
The pumpkin recipes that most people see in coffee shops and grocery stores, however, are quite unhealthy. The pumpkin fad means that more people consume high-calorie foods, most of which contain processed ingredients. Is it even possible to make pumpkin-inspired seasonal recipes that are healthy? The answer, dear friends, is yes.
Are Pumpkins Healthy?
Belonging to the squash family, pumpkin exhibits a wide range of health benefits. In fact, pumpkin happens to be one of the richest sources of beta-carotene, which is an antioxidant that gives orange foods their vibrant colors. The body converts beta-carotene into vitamin A, which encourages optimal eye health, immune function, and even protects against heart disease. One study found that a diet rich in beta-carotene foods helped suppress tumors in patients with prostate cancer. A separate 2014 cross-sectional study from Japan found that beta-carotene slowed the development of colon cancer.
Some studies found that pumpkin's fiber, potassium, and vitamin C content supports a healthy cardiovascular system. A 2017 study, for example, indicated potassium's importance in reducing blood pressure levels. One cup of cooked pumpkin provides 16% of the recommended daily intake of potassium.
Pumpkins are also great sources of fiber, vitamin E, copper, riboflavin, folate, niacin, iron, and magnesium. To learn how to incorporate more of this fall favorite into your diet, explore the following healthy recipes. These aren't your standard pumpkin recipes, but they sure make pumpkin the star of the show. You won't be missing pumpkin flavor at all!
Roasted Pumpkin Apple Soup
Nothing screams comfort like a bowl of warm soup on a chilly fall day. This recipe embraces two of fall's best produce items: apple and pumpkin. It's earthy with a touch of fresh sweetness.
Click here to make the recipe.
Raw Vegan Pumpkin Pie Smoothie
This isn't your typical pumpkin recipe, but that's what's great about it. Make sure to get your hands on a pie pumpkin for the sweetest flavor. This smoothie is basically like enjoying pumpkin pie without the excess sugar and calories. Dessert for breakfast, anyone?
Click here to make the recipe.
Pumpkin Hummus
Who doesn't love a great dip? A classic Mediterranean dip gets a fall makeover by including pumpkin in the recipe. It may seem like an odd choice, but it has a unique flavor that is savory, warming, and fragrant.
Click here to make the recipe.
Crockpot Pumpkin Pie Oatmeal
Get a double dose of fiber when you enjoy this unique fall spin on a regular bowl of oatmeal. Don't worry about excess carbs or sugars because they aren't in this recipe. Using warming fall spices and 100% pumpkin puree, this breakfast comes together easily in a crockpot. Dump, stir, walk away, and let the magic happen.
Click here to make the recipe.
Raw Vegan Pumpkin Pie Tarts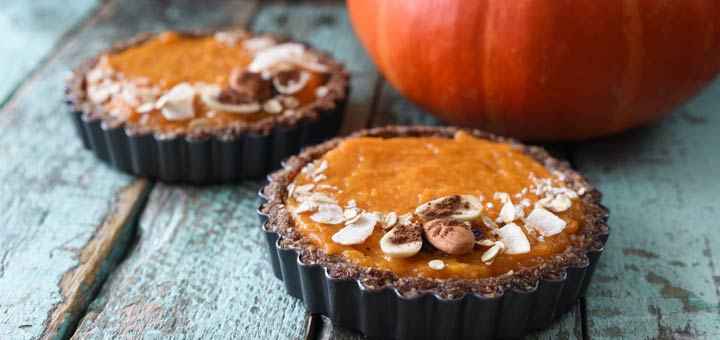 Get in the fall spirit by making these adorable and delectable pumpkin pie tarts. The greatest thing about these tasty tarts is that they are easy to make, but they also boast bold flavors. All you need is time for the filling to set and you have yourself a healthy take on a fall classic.
Click here to make the recipe. 
2022-05-09T00:30:20-07:00