When the objective is to eat healthy, the foods that tend to get in the way are processed snack foods. Chips, cookies, crackers, sugary bars, and more are undeniably bad for your health, yet they are the things people crave most. Carrot sticks and a bowl of hummus just doesn't have the same appeal as artificially flavored chips that coat your fingers with who knows what chemicals.
One of the most common reasons that people resort to unhealthy snacks foods is because they are quick and easy. While it may only take a couple minutes to cut up some fruit or vegetable sticks, it's much easier to open a bag of chips to begin snacking. This is why it can be beneficial to prep energy balls ahead of time, so that you ensure healthy snacking throughout the week.
Are Energy Balls Healthy?
Energy balls are typically comprised of nuts, seeds, dried fruits, and healthy oils. They are essentially little balls of nutrients that help to keep you energized and full between your meals. Some of the benefits of consuming energy balls can include:
Balanced Macros: The ultimate goal of snacking should be to intake more nutrients. Energy balls typically contain a harmonious blend of macros: healthy fats, protein, and complex carbohydrates. This balanced nutritional profile sustains your energy levels throughout the day.
Customizable: As you will find out in the recipes in this article, energy balls are easily customizable to create the flavor combinations you desire. Different seasonings and a few ingredient swaps can make all the difference. Experimenting is awesome!
Portability: Energy balls can be divided into containers and taken wherever you go. Many people lead on-the-go lifestyles, and resort to unhealthy snacking as a result. When you have a snack that is with you at all times, you can make smarter food choices.
Easy To Make: As long as you have a food processor, you'll have an easy time making energy balls. Toss everything into the processor, blend, roll the mixture into balls, and then refrigerate so they can harden. That's it!
Cashew Cranberry Bites:
These chewy cranberry cashew bites are perfectly sweet and tart. They make for great portable snacks during your cleanse.
Click here to make the recipe.
Raw Carrot Cake Energy Bites:
Imagine your favorite slice of carrot cake in one little healthy bite that you can enjoy guilt-free. You have just found that recipe.
Click here to make the recipe.
Raw Cookie Dough Energy Bites:
Want to fill up on a snack without consuming a ton of calories? Eat these energy-boosting bites to sustain yourself between meals.
Click here to make the recipe.
Lemon Ginger Protein Power Bites: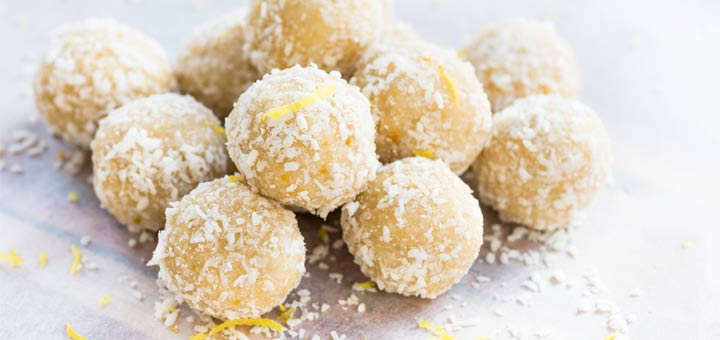 Power your day when you start snacking on these protein-filled lemon ginger bites. They only take 10 minutes to make!
Click here to make the recipe.
Pecan Pie Energy Bites:
Get a little taste of pecan pie while you are cleansing with these healthy snacks. Eating a few of these helps to keep you full & energized.
Click here to make the recipe.
Sources:
https://fitfoodiefinds.com/12-energy-ball-recipes/
https://www.simplyquinoa.com/how-to-make-energy-balls-the-ultimate-guide/
2019-11-08T17:03:58-07:00