The sun is out and the weekend is long, which means it is time to get out your grills and enjoy an afternoon of good company and even better food. Memorial Day weekend is a classic time for backyard cookouts or picnics on the beach. We manage to turn every holiday weekend into a time to showcase your cooking talents, which is why we have put together some grill-tastic recipes.
When it comes to grilling, marinating your food is the key to success. This is especially true when you are making plant-based meals. It is important to let those vegetables soak up the flavors in the marinades, so that your food packs a savory punch in every bite. Whatever you decide to cook this weekend, we hope that the recipes (below) inspire your weekend menu.
Shredded Kale & Broccoli Salad:
It's always good to have a salad! This salad has a different use for broccoli than what you are used to. It is filled with nutrients and the dressing brings it all together.
Click here to make the recipe.
Grilled Vegetable Kebabs:
These grilled vegetable kabobs have everything that's great about summer. Colors, bright flavors, grill marks, and some great summer produce items like mushrooms and zucchini. The herbs that coat the kabobs heighten the flavor profile and make for an aromatic dish.
Click here to make the recipe.
Shredded BBQ Carrot Sandwiches:
There's something about a homemade BBQ sauce that just elevates a meal. This healthy take on a BBQ classic is truly a unique recipe that will definitely become a featured meal at the dinner table.
Click here to make the recipe.
Grilled Zucchini Nachos: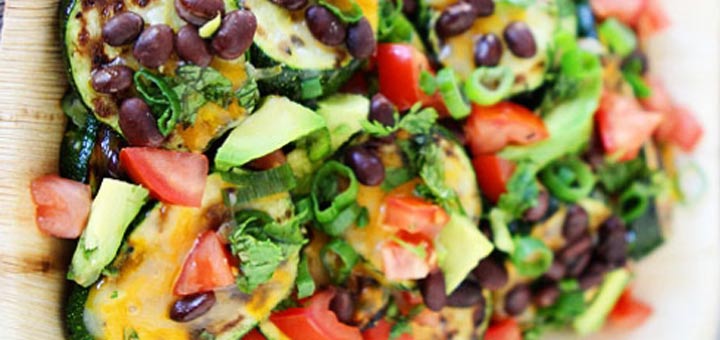 The grilled zucchini chips elevate the flavor profile of these nachos. You don't even have to put these in the oven because they will be hot off the grill!
Click here to make the recipe.
Fresh Fruit Pops:
Whether you want to make a healthy, refreshing dessert for your kids or just feel like indulging in some all natural sweetness, these popsicles are just the right dessert to cool you off this weekend.
Click here to make the recipe.
Source:
http://vegnews.com/articles/page.do?pageId=2165&catId=2
2018-05-22T16:36:24+00:00