When you set out on the open road, the traditional go-to snacks come from gas stations or convenience stores. You can easily pick them up along the way and they provide quick and easy snackability (that's our new word). It's the American way to shove your face with all sorts of chips, candies, and all sorts of other junk food.
Somewhere along the way, Americans got the impression that snacking was synonymous with junk food. A snack is a miniature meal, but it can often turn into a full on pig-out session, polishing off an entire bag of chips in minutes. People don't consider snacks to be miniature meals, though, and therein lies the problem. A snack should be a quick bite that offers nourishment, yet most people fail to make calculated decisions when it comes to snacking.
After a long road trip, it's not uncommon to find crumbs, chips, or sticky sweets in those hard-to-reach places of the car, especially if children were in there. The reason people choose those snacking options is because they are quick and easy. Ideally, everyone would spend days prepping healthy snacks for the road trip, but hectic schedules can make this difficult. It doesn't have to be difficult, especially when the snacks are easy to make.
What Should Healthy Snacks Contain?
The holy trinity of snacking nutrients include complex carbohydrates, fiber, and protein. Together, these nutrients help to provide the body with energy and sustenance, which keeps you feeling full. It's that sustenance that keeps you from going back for more. Chips, for example, offer little to no nutrients, so you can eat the entire bag and still feel hungry. Then you end up with a tummy ache somewhere along your drive. There's no need to ruin drive time by plaguing your digestive system.
Next time you hit the road, prepare the following snacks. You can thank us later.
Quick And Easy Date Bars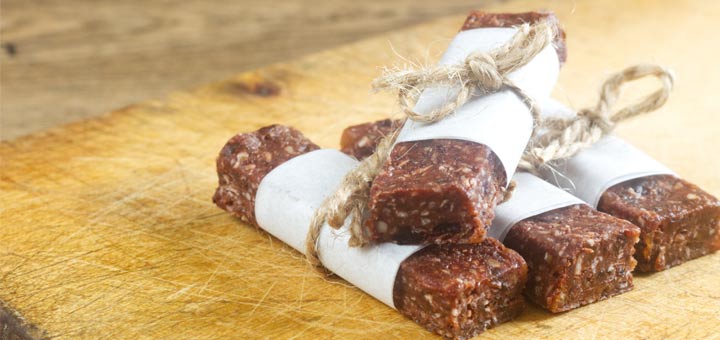 The great thing about these raw vegan date bars is that they only contain three simple ingredients! They are filling and damn delicious!
Click here to make the recipe.
Apple, Blueberry, & Cashew Butter Sandwiches
Healthy raw vegan snack alert! These apple, blueberry, and cashew butter sandwiches fill you up with healthy fats, fiber, and protein.
Click here to make the recipe.
Baked Plantain Chips
These homemade plantain chips are perfectly crunchy and incredibly addictive. Fair warning…you may need to make a bigger batch because they are that good!
Click here to make the recipe.
Everything Bagel Dehydrated Flax Crackers
Are you gluten-free or on a raw vegan diet? Satisfy your Everything Bagel craving by snacking on these dehydrated flax crackers. Make sure to make them a couple days before your road trip.
Click here to make the recipe.
Apple Pie Energy Balls
You can have your snack and enjoy it guilt-free now that you have these apple pie energy balls. It's like dessert in healthy snack form!
Click here to make the recipe.
4-Ingredient Chewy Peanut Butter Balls
Chewy, sweet, filling, and 100% plant-based, these peanut butter balls are the perfect snack to provide sustenance during your road trip.
Click here to make the recipe.
2022-05-06T02:58:47-07:00