A traditional Thanksgiving dinner isn't the epitome of health. In fact, it is the antithesis of health, and gorging oneself into a food coma is the ultimate goal. The giant spread usually consists of holiday pies and carb-centric sides that are loaded with sugar and fat. But if you want to lighten up the menu this year, we have some great Thanksgiving side dishes that will do the trick. 
It can be scary to divert from the familiar, but sometimes you need to jump into the deep end. You can search for new twists on green bean and sweet potato dishes, for example, and invite new flavors to the party. Feature seasonal produce items like Brussels sprouts or replace potatoes with celeriac, another seasonal produce item. One of the primary things that we encourage you to do is add more greens and refreshing dishes to your Thanksgiving spread. Not only does this increase your vegetable intake, but it also nourishes the body and makes the digestive system happier.
Ahead, you'll find seven easy and healthy recipes that will go great with your Thanksgiving feast. Not only are they scrumptious, but they are a lot lighter than the traditional sides that accompany the big meal. They include more vegetables, some of which are seasonal, and aim to help you feel lighter on the day. 
Pomegranate, Avocado, & Citrus Brussels Sprouts Salad
Brussels sprouts make a great canvas for the color and flavor of fresh pomegranate arils, creamy avocado, and citrus dressing.
Click here to make the recipe. 
Roasted Brussels Sprouts With Cranberries & Pecans
Making Brussels sprouts taste good can be a challenge, but this recipe will have you craving them every day during the holiday season.
Click here to make the recipe. 
Quick And Simple Roasted Broccolini
This roasted broccolini side dish pairs well with just about every meal. No, seriously, it does and you'll have to try it to believe us. Simplicity is the name of the game in this recipe!
Click here to make the recipe. 
Rainbow Roasted Carrots
Are you ready to taste the rainbow? Far from Skittles, these herbaceous, roasted rainbow carrots are the perfect Thanksgiving side.
Click here to make the recipe.
Mashed Butternut Squash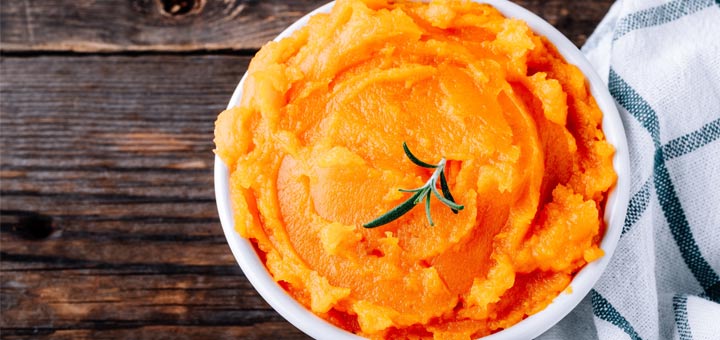 You've never seen a butternut squash recipe like this one. This mashed butternut squash is creamy, comforting, and the perfect side to accompany any feast.
Click here to make the recipe. 
Quinoa Stuffing With Apple, Sweet Potato, & Hazelnuts
This is a healthy twist on a holiday classic. If you are trying to go gluten-free this Thanksgiving, this is the stuffing recipe you need.
Click here to make the recipe.
Cinnamon Maple Instant Potato Mashed Sweet Potatoes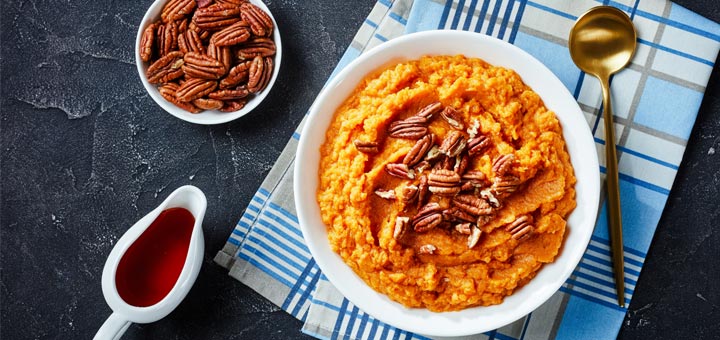 Get a healthy dose of beta-carotene and complex carbohydrates when you indulge in this dish. The maple syrup enhances the inherent sweetness of the sweet potatoes.
Click here to make the recipe.
2022-11-17T12:29:17-07:00