Although the famous saying is, "An apple a day keeps the doctor away," many people take apples for granted. They are available year round, so why are they so special during fall? Depending on the variety, of which there are more than 2,500, apple season ranges from late July through early November. Gala, McIntosh, and Macoun varieties are ready in September, while other varieties like Pink Lady, Honeycrisp, Granny Smith, and Fuji are ripe in October.
Nutrition Facts
On average, a medium apple contains 72 calories, three grams of fiber, and 11% of your recommended daily intake (RDI) of vitamin C. Apples are also rich in a variety of flavonoids, including quercetin and phloridzin. Through various studies, researchers identified that these plant compounds help fight against heart disease and certain types of cancer. Apples are also rich in beta-carotene, which is a powerful antioxidant that is primarily concentrated in apple peels. Finally, apples contain phytochemicals that give them their anti-inflammatory and cholesterol-lowering properties. That makes these fall fruits an excellent on-the-go snack or addition to recipes.
Nothing beats a crisp apple that bursts with juicy flavor, especially if you can pick it fresh from an apple orchard during fall. But apples are so much more than just a healthy snack! Use them in the following eight recipes and let us know how you like them in the comments below.
Apple Cinnamon Smoothie For Fall
Start a busy fall morning with this apple cinnamon smoothie, which is packed with protein, healthy fats, fiber, and tons of flavor.
Click here to make the recipe.
Carrot, Apple, Kale, & Ginger Smoothie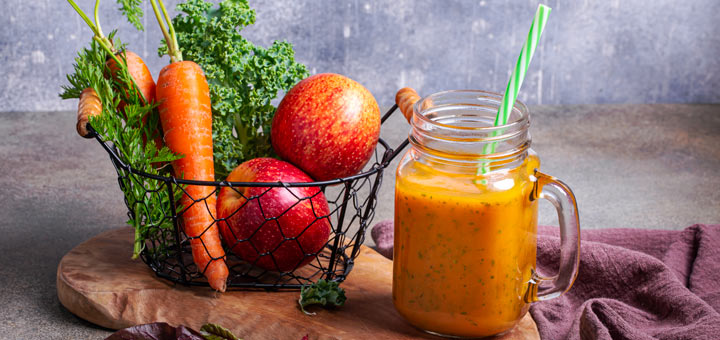 A simple carrot, apple, kale & ginger smoothie is the perfect balance of nutrient-dense ingredients and wonderfully refreshing flavors.
Click here to make the recipe.
Apple Pie Energy Balls
You can have your snack and enjoy it guilt-free now that you have these apple pie energy balls. It's like dessert in healthy snack form!
Click here to make the recipe.
Dehydrated Cinnamon Apple Chips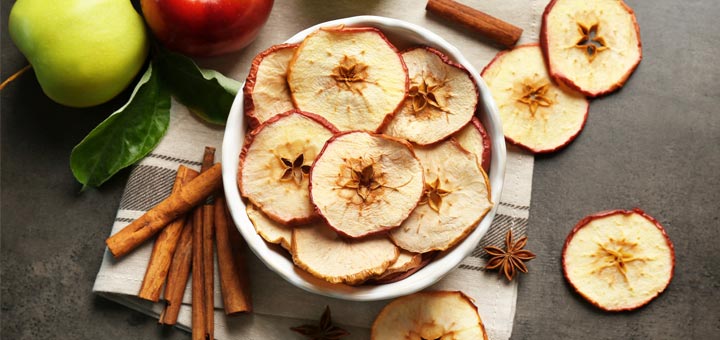 Get your snack on with these dehydrated cinnamon apple chips. No need to spend lots in the store when you can easily make them at home!
Click here to make the recipe.
Apple Arugula Salad With An Apple Cider Vinaigrette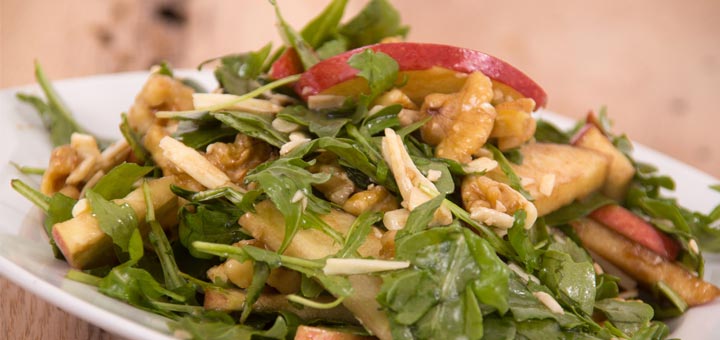 Every bite is refreshing when you dive into this apple arugula salad. The zesty apple cider vinaigrette accents the primary ingredients.
Click here to make the recipe.
Easy Apple, Spinach, & Cranberry Salad
Embrace some of fall's fresh produce items when you make a hearty bowl of this spinach, apple, cranberry salad with walnuts.
Click here to make the recipe.
Apple & Brussels Sprouts Slaw
Brussels sprouts and apples are two of fall's best produce items. Get ready to enjoy the ultimate fall slaw that's nutty, sweet, and savory.
Click here to make the recipe.
Raw Vegan Apple Pie Tarts
Made with whole foods that fill you up while satisfying your sweet tooth, these raw vegan apple pie tarts are perfect for the fall season.
Click here to make the recipe.
2022-10-18T22:27:03-07:00