The autumnal equinox comes toward the end of September, but the first Saturday in September has become the annual worldwide event that is World Beard Day. The beard has become somewhat of a spectacle, with long, well-maintained, sometimes braided beards proclaiming masculinity. Whether you are scruffy, groomed, sporting a thick mustache, or have sparse whiskers, you deserve to rejoice with your fellow bearded brethren.
Beard Fact: Some of the most famous beards on the planet belong to the guitar player and bass player from the band ZZ Top. These two men, Billy Gibbons and Dusty Hill, have been growing their beards out since the 1970s. The two have admitted that they don't want to cut them because they don't know what's underneath the wiry mess. Interestingly enough, the drummer, Frank Beard, is the only band member who does not have a beard.
World Beard Day is about promoting the global status of the glorious beard. It should be known that any sort of shaving, buzzing, or trimming on this day is universally understood to be disrespectful. You can shampoo, condition, moisturize, apply beard oil, brush, or comb your beard, but for the love of Zeus, do not cut or trim those glorious facial hairs, no matter how short or long they are.
Beard Fact: While proper beard care is an essential component of maintaining a healthy looking beard, diet plays an equally important role in the appearance and growth of your beard. Devouring burgers, tearing ribs from the bone, and stuffing your face with hotdogs, only to have condiments drip into your beard, is not the way to keep your beard healthy. Focus on nutrient dense, plant-based foods like vegetables, fruits, nuts, seeds, legumes, and whole grains because the health of your beard starts with a healthy body.
While we can't control what you eat or how you choose to groom your beard, we can encourage you to use some DIY beard hygiene products that are made from all-natural ingredients. Try the following DIY beard products out and let us know how you like them. Happy World Beard Day!
DIY Beard Balm: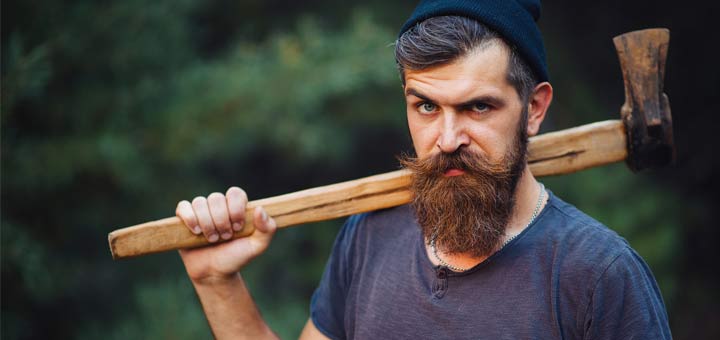 When it comes to the health of your beard, it's important to practice good hygiene. Use this balm to make your beard feel & smell amazing.
Click here to make the beard balm.
DIY Beard Oil:
If you are growing a beard, then owning a moisturizing beard oil is an absolute necessity. Keep your skin & beard healthy with this oil.
Click here to make the beard oil.
Sources:
https://worldbeardday.com/
https://beardoholic.com/world-beard-day/
https://nationaldaycalendar.com/world-beard-day-first-saturday-in-september/
2019-09-06T16:54:27-07:00