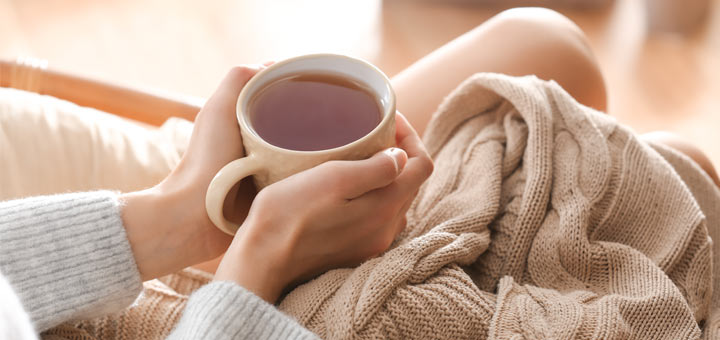 A steamy cup of herbal tea is an excellent alternative to caffeinated beverages or plain water. Many herbal teas, as well as caffeinated teas, exhibit powerful health properties. From hibiscus and chamomile to Earl Grey and green tea, teas are chock full of beneficial nutrients. Before you take swig after swig, though, there are certain things to consider.
People who take prescription or over-the-counter medications need to consider the potential interactions of certain herbs with their medications. Certain herbs may decrease the effects of medicines, while others may lead to unwanted side effects. When brewing a cup of herbal tea, though, the first thought isn't, "How will this interact with my medication?" Tea is considered harmless, and most teas are considered to be safe in small amounts. People who take medication or live with certain health conditions, however, may need to limit or avoid consumption of some herbal teas.
If you take blood thinners, antidepressants, or blood pressure medication, drinking certain herbal teas may increase the risk of side effects. Below, you'll find some herbal teas that you should limit or avoid if you live with specific health conditions. Please keep in mind that the information in this article is intended to be informative. If you have concerns or questions about specific teas or herbs and how they'll interact with your body, consult your health care professional. They can help determine what herbal teas or supplements are safest for you.
Gingko Tea
People who take blood-thinning medications should avoid gingko tea. Blood-thinning medications include Coumadin (warfarin), aspirin, Plavix (clopidogrell), and other anticoagulants. Gingko biloba actually slows the blood clotting process, and consuming it with anticoagulants can increase the risk of bleeding. People with epilepsy or those who take antidepressants should also avoid gingko tea. It's possible for large amounts of gingko biloba to induce seizures, and it may weaken the effects of certain antidepressants.
St. John's Wort
St. John's wort is notorious for interacting with a variety of medications, including cyclosporine, antidepressants, blood thinners, birth control pills, and HIV drugs. If you take any of these medications, talk to your health care professional before taking St. John's wort or drinking the tea. It's possible that consuming St. John's wort in conjunction with antidepressants may help reduce depression symptoms, but it's wise to discuss a treatment plan first. The reason for this is because that combination may lead to dangerous levels of serotonin.
Chamomile
A seemingly harmless herb, chamomile is a nighttime favorite for people who wish to calm the body and mind. According to several studies, it exhibits mild tranquilizing affects. Other studies found that it may lower blood sugar levels in people with diabetes. Infrequent consumption may have beneficial effects on glycemic control for type 2 diabetics. Drinking large amounts of chamomile tea, however, may reduce blood sugar too much. You don't have to avoid chamomile tea as a diabetic, but be aware that drinking too much may lead to a hypoglycemic event. Carefully monitor blood sugar as you drink the tea.
Ginseng & Licorice Teas
Similar to gingko biloba, ginseng and licorice may reduce the effectiveness of anticoagulant medications, including warfarin. If you experience blood clots or have deep vein thrombosis (DVT), it's wise to avoid these teas. Ginseng may also reduce the effectiveness of calcium channel blockers, statin medications, certain antidepressants, and HIV agents. Keep this information in mind when consuming either of these herbs in tea or supplement form.
Green Tea
Known for the powerful antioxidant properties, green tea is a powerhouse in the world of health and wellness. Unfortunately for some, it negatively interacts with medications that treat heart conditions. Green tea also contains vitamin K, which can increase blood clotting and interfere with some blood thinners. People who take lisinopril (medication for hypertension and heart failure), should also limit green tea consumption because it can reduce the effectiveness of the medication.
2022-05-13T04:47:44-07:00