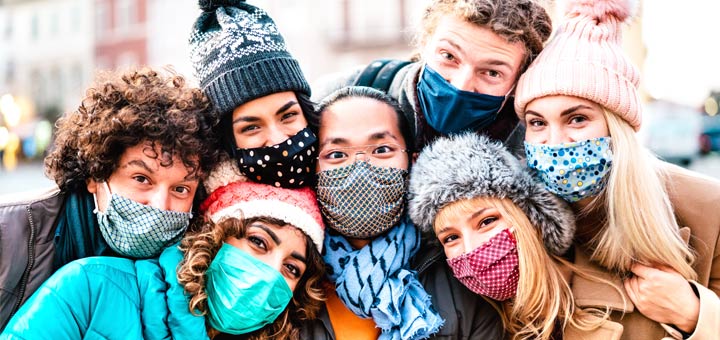 The holidays are approaching quickly, almost as fast as COVID-19 cases are increasing around the world. Too soon? We just call it like we see it, which is accurate considering that the United States has an average daily case rate that exceeds 150,000. This is double the amount of daily cases that occurred over the summer. And experts predict that this number will increase if people are careless during the holidays.
It's crazy to think that lockdowns started in March 2020, which was nearly nine months ago. Now, we face the time of the year when people travel from far and wide to congregate in one household to celebrate the holidays. This is exactly what health experts do not want. In fact, infectious disease specialists anticipate that COVID-19 cases will skyrocket during the holidays. This is because people will ignore recommendations that advise against holidays gathering and celebrations.
How Fast Can COVID-19 Spread In A House?
A new study found that 53% of people living in the same house with someone who has COVID-19 contract the virus. Of that percentage of people who contract the virus, 75% of the infections occurred within five days after the first person's infection. This worries infectious disease specialists with the upcoming holidays. A person, who unknowingly has COVID-19, can transmit the virus. If one person gets infected, more than 50% of the people who live there will also get infected.
Holiday Gatherings Are Super Spreader Events
Some people have not seen their families throughout the pandemic, and they are anxiously waiting to see them for the holidays. Aunt Joyce will come from Texas, cousins Jimmy and Francine will come from Maine, Grandpa Jimbo will travel from Florida, etc. All of those people will meet in one household and gather around the family table for dinner. Isn't that beautiful? No, no it's not. Indoor gatherings go against everything that health officials have advised, especially if nobody is wearing a mask. All the people who congregate in one household run the risk of contracting COVID-19, making this holiday season extra dangerous for higher risk family members.
Traveling Can Be Risky
If you travel to visit people during the holidays, the act of traveling is a little risky. Airlines require that passengers wear masks during the flight and are doing their best to create space between passengers by blocking off middle seats. You are allowed to remove your mask to eat food or drink during the flight, and that is the only part that isn't safe. At the same time, you cannot deny people access to food and beverages. The great thing is that the air quality on planes is very high, with new air present in the cabin every two to four minutes.
Holiday Guests Will Follow The Lead Of The Hosts
This can be good or bad, depending on how safe and diligent the hosts are on COVID safety measures. If the hosts are strict and enforce distancing and regular sanitation, guests should follow suit. If the hosts are pretty relaxed about COVID safety measures, things can go south pretty quickly. Ultimately, people want to fit in and be like everyone else, not ostracized for sticking out. If everyone sits separately around the room for dinner and wears masks in the house, everyone should hopefully want to do the same.
Religious Events Or Services Can Be Very Dangerous
We don't want you to misinterpret that statement and think that religion is dangerous; that is a matter of personal opinion. What is true is that religious services or events, especially if they are indoors, can turn into super spreader events. These events entail interactions with people who live outside of your household and frequent singing, which projects respiratory droplets and aerosols that potentially contain the virus, all over the place.
The Reality Of The 2020 Holiday Season
At the end of the day, there is not a safe way to celebrate the holidays if you engage with people outside your immediate household. Experts advise people to stay home if they can manage that during this time. If you do travel, the recommendation is to quarantine when you return home to ensure the safety of everyone. If you need to celebrate with people outside of your household, do so virtually to keep COVID-19 cases down. 
2022-04-18T00:54:07-07:00