When it comes to completing one of our cleanses, you may be struggling to keep your palate interested. Salads and smoothies may not enchant your taste buds each day, which is why it is best to get creative with your raw food meals. For ideas on what to eat during a cleanse, we went straight to Dherbs CEO, A.D. Dolphin.
When asked about his favorite raw foods, A.D. said that he loves to drink smoothies when he cleanses. "Smoothies are a great way to get essential vitamins and minerals in one meal, and they can give you an energetic boost to start the day." You can add a wide variety of fruit and vegetable combinations, but A.D. said, "Always add a leafy green like spinach, kale, or chard to your fruit smoothies."
Salads are another staple meal for people who are cleansing. "It's important to eat the rainbow," A.D. said. This means that your salads should include colorful vegetables. Add some bell peppers, tomatoes, carrots, orange slices, red cabbage, purple kale, grapes, or avocados to your salads to get every color of the rainbow.
"I like to keep my meals interesting," A.D. said. Here are his five favorite meals to eat while cleansing.
#1: A Kale Smoothie That Tastes Like Ice Cream
"We don't have to compromise our health, even if we have hectic lives. Try one of my favorite smoothies that is a great source of energy."
Click here to get your smoothie on.
#2: Raw Cauliflower Rice With A Latin Flare
"Sometimes you just want rice on the cleanse. Be strong and stick to the raw diet. In fact, make this cauliflower rice recipe, which is healthier than the real thing."
Click here to make the recipe.
#3: Savory California Sushi Rawls
"A lot of people ask if they can eat sushi while cleansing. The answer is always 'no.' I love sushi, so I was pretty excited when I found this vegetable sushi roll that's ok to eat while cleansing."
Click here to make the recipe.
#4: Zucchini Noodles With Basil Almond Pesto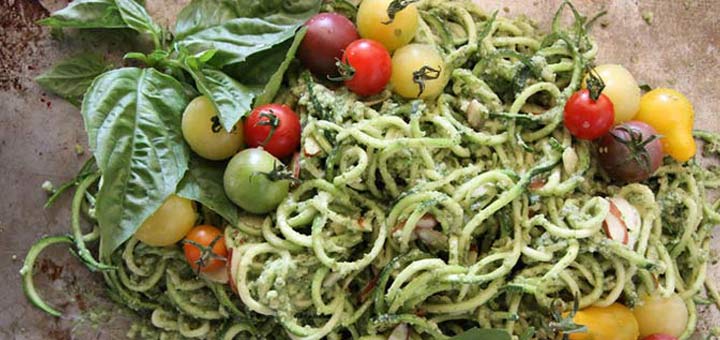 "Everybody loves pasta. Rather than getting the unnecessary carbs from pasta, you can make zucchini into noodles and blend a freshly made, raw pesto."
Click here to make the recipe.
#5: Raw Sorbet With Berries, Pineapple, Mango, & Banana
"Sometimes you need to satisfy your sweet tooth, but don't reach for the chocolate bar or sour candy. Make this raw sorbet instead."
Click here to make the recipe:
2023-02-21T02:00:42-07:00