We frequently get asked how much a person should eat during a typical day of cleansing. While this will vary from person to person, we tell people that they are going to have to eat more than they think. It is extremely important to listen to your body when you are cleansing. If you are thirsty, drink some water or tea. If you are hungry, eat anything that is Full Body Cleanse approved. Don't avoid eating because you think you have had too much food. Eat until you are content!
Most people don't eat enough when they are cleansing. Three meals a day does not really hold the average person over. How do you make yourself feel full? What should you be eating in between meals to make sure that you have energy? We are going to give you a sample day of recipes, which require minimal prep time, that are acceptable to eat on all of our cleanses.
Apple, Blueberry, & Banana Green Smoothie For Breakfast
Are you trying to absorb a lot of nutrients in one go? Want to aid digestion? Sounds to us like you need this fiber-rich green smoothie.
Click here to make the recipe.
Mid-Morning Snack
Almond butter reigns supreme when it comes to nut butters. You get healthy doses of magnesium, protein, and it tastes awesome on almost anything. Cut up one or two apples and dip them in this filling nut butter.
Click here to make the recipe.
A Super Easy Kale Salad With A Lemon Vinaigrette For Lunch
Making salad has never been so easy! You'll love how simple and refreshing this salad is. For only a few ingredients, it tastes like wow.
Click here to make the recipe.
Chili Cucumber Slices For An Afternoon Snack

The most important thing to remember about fruit and vegetable snacks is that you shouldn't be afraid to season them. Turn up the heat, refresh your palate, and snack spicily.
Click here to make the recipe.
Raw Zucchini Noodles Tossed In Pesto For Dinner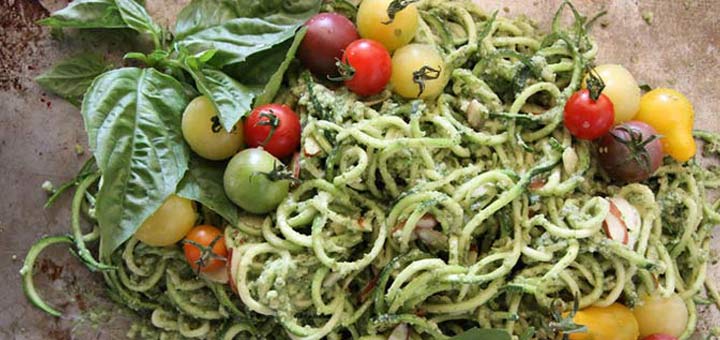 This is a healthy take on an Italian classic. It tastes so good that you won't even be thinking about how healthy it is!
Click here to make the recipe.
Raw Banana Ice Cream For Dessert
Bananas make a great base for homemade ice creams. The trick is to peel them and slice them before putting them in the freezer. Then you are ready to blend whenever you are craving a healthy dessert.
Click here to make the recipe.
2022-03-22T05:52:55-07:00