Making broad, sweeping dietary and lifestyle changes as I have mentioned in previous articles, if implemented, will have great benefits to your personal health and society as a whole. While I've written about the tremendous benefits of a diet consisting largely of plant-based nutrition, there's another piece to the healthy diet puzzle that you should not neglect – grains.
Grains, especially in their whole state, are an excellent source of time-released carbohydrates, fiber, vitamins, minerals, essential fatty acids, beneficial phytochemicals and, yes, even protein. On paper they are a perfect food. That is, when they are in their whole, unrefined state.Unlike "white" refined grains, whole grains contain the outer fiber layer and the nutrient-rich germ, as well as the starchy endosperm, which is all that is left in the refined grain. As a result, whole grains tend to be more filling and usually have a slower blood sugar release.
Diets that contain at least three or more ounce equivalents of whole grains per day may help with weight control and can reduce the risk of several chronic diseases, such as coronary heart disease and some kinds of cancer. Of course, if you're a frequent consumer of what I call "refined wheat confectionary foods" like crackers, pastries, pretzels etc.; then whole grains tend not to be found in these items. Instead they have all the stuff you DON'T need – added fats, oils, sugars, and unnecessary "sweet-fat calories."
Unfortunately, there is no universally accepted definition of what constitutes a whole-grain product. Plus, food packaging is intentionally deceptive and food labels can be hard to understand sometimes. For example, descriptions like "wheat bread," "stone-ground," and "seven-grain bread" do not guarantee that the product contains whole grains. If you're thinking the color of a product may be an indicator, think again as some of these foods may be darker simply because molasses or coloring has been added. What I usually tell my patients to do look at the ingredients on the food label. If the first words are "whole grain" or "sprouted grain," it is a predominantly whole-grain product and you are good to go. However, if the bread is enriched with vitamins or minerals, it is generally not a whole grain product or has only a small amount of whole grains in it and should be avoided.
While there is no universally accepted definition of whole-grain products, it's interesting to note that the U.S. Dietary Guidelines use the American Association of Cereal Chemists' definition which is: "Foods made from the entire grain seed, usually called the kernel, which consists of the bran, germ, and endosperm. If the kernel has been cracked, crushed, or flaked, it must retain nearly the same relative proportions of bran, germ, and endosperm as the original grain in order to be called whole grain." The U.S. Food and Drug Administration (FDA), on the other hand, only require foods that bear the whole grain health claim to: (1) contain 51 percent or more whole-grain ingredients by weight per reference amount and (2) be low in fat.
If you look at the statistics, in the last 30 to 40 years Americans have been consuming more grain products BUT only 15 percent have been whole grains while 85 percent have been refined grains !  This definitely explains why Americans are fatter and sicker as refined grains are the source of excess calories, weight gain, and chronic disease. They're also one of the reasons why carbohydrates have been given a bad name. Carbohydrates in general are not bad for you. What's bad is the over-consumption of refined grains. That's a big distinction. Those uninformed "experts" encouraging people to avoid all carbohydrates are doing a major disservice to the public's health as "carbo-phobics" are failing to consume an integral component their bodies need for energy.
I would be totally remiss if I didn't address one unfortunate aspect of eating more grains and that is "grain intolerance" or sensitivity. Even if everyone in the United States switched over to eating a diet consisting 100 percent of whole or sprouted grains, there would be a significant group of people who just wouldn't feel well. The cause of their "sickness" could stem from an intolerance to grains especially those of the refined wheat products nature, but also possibly other glutinous grains like oats, barley, rye and even corn.
In almost three decades of clinical practice, for those who don't feel well after making the changing their diet, I usually advise them to go grain-free (except for brown rice and other non-glutinous grains) to see if there is noted improvement in their symptoms. Another thing I suggest is that they try my Basic Elimination Diet (BED)as it can be a great indicator if food intolerance may be at the root of the problem.
Here's how the BED works is:
You write down the foods you normally eat for four to seven days.
Eat off the BED food list for at least two weeks (preferably four weeks). If there is a food on the list that you normally eat four or more times per week, eliminate it also.
Make sure all of your food is whole food and half or more of your food intake should be any of the vegetables on the BED list.
After the two to four week period, reintroduce the previous most commonly eaten foods one at a time for two days. Take note of any symptoms. If there are no problems, go to the next previous most commonly eaten food.
Re-introduce the "reactive" foods back into your diet after one month on a non-daily basis (every three to four days). If tolerated, keep it in the diet on a rotational basis. If reactive, eliminate it for six months, and then try again.
If you still feel after one month that you have food-intolerance symptoms, you may need to get food intolerance/allergy testing done; eat off a blood-type food list; do a comprehensive stool analysis; take pre- or probiotic supplementation; improve digestion; and/or see a physician competent in dealing with food intolerance.
While there are some experts who maintain there are adverse health consequences to eating grains, I feel strongly that whole grains have to and can be a part of a healthy human diet. We need these cereal grains as both an energy and protein source. As educated health consumers and intelligent health practitioners, if we are aware of the potential for grain intolerance (especially from glutinous grains), the adverse effects of grain intolerance can definitely be kept to a minimum. And as long as your grains are being consumed as part of a whole unprocessed, predominantly plant foods diet with a wide variety of protective phytochemicals from vegetables, fruit, beans, nuts and seeds, (as suggested with the Basic Elimination Diet) you will do fine and be further along on the path for optimal health.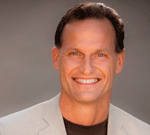 As a certified physician's assistant specializing in nutrition, prevention and integrative medicine, KIRK HAMILTON maintains that if there's one cure all for chronic disease it's what you eat. With his emphasis on consuming more unprocessed, micronutrient dense plant-food along with simple cross-training and mind/body principles, Kirk has been instrumental in guiding his patients and clients toward the path of optimal health since 1983. He has also been a valued educator to health professionals. As the founder of Clinical Pearls Publications, Kirk provided summaries of nutritional research to practicing physicians and researchers around the globe until he sold the company to Tishcon Corp. in 2004. Since 2009 Kirk has hosted his own radio program/podcast titled Staying Healthy Today. He has interviewed hundreds of the top experts in the medical field including Joel Fuhrman, Dr. David Jenkins and Dr. Neal Barnard. Drawing on his 28 year career, in August 2011 Kirk self-published the book titled "Staying Healthy in the Fast Lane – 9 Simple Steps to Optimal Health." His book serves as a guide for individuals, professionals and policy makers on how to create a new health paradigm that is focused on staying well and prevention instead of treatment.
Follow Kirk!
www.prescription2000.com
The greatest medicine of all is to teach people how not to need it.
Read about how to lose weight and prevent chronic diseases by purchasing Kirk's book, "Staying Healthy in the Fast Lane – 9 Simple Steps to Optimal Health." Order your copy here. Enter code "RX40" and receive an automatic 40% off your book purchase.
DHerbs Soultions:
2015-09-21T10:44:08+00:00