Most studies on health have included information on eating nuts but not seeds. Yet both have healthful food components when eaten in their whole, raw state (that is, not roasted or salted). Nuts and seeds have nonoxidized essential fatty acids, vitamins and minerals, fiber, lignans, plant sterols, and protein. When it comes to your cardiovascular health, when replacing calories in your diet – especially meat calories – and you're not adding any additional calories, nuts and seeds have been shown to reduce cholesterol and the incidence of cardiovascular disease and heart attacks.
In the "Nurses' Health Study," women who consumed nuts greater than five times per week had about a 35 percent lower risk of coronary heart disease; 39 percent reduction of fatal coronary heart disease; and a 32 percent reduction in non-fatal heart attacks than those women who rarely ate nuts. In the "Physicians Health Study," men who rarely or never consumed nuts when compared to those who consumed nuts two or more times per week, had reduced risks of sudden cardiac death of 47 percent and total coronary heart disease death of 30 percent.
In a pooled analysis of four U.S. epidemiological studies, those in the highest intake group for nut consumption had an approximately 35 percent reduced risk of coronary heart disease incidence. And these weren't people who were eating a whole-food diet! They were simply eating the standard American diet. While many were not eating nuts and seeds, those who were, because of that one change, saw a 40 percent or more reduction in sudden cardiac death.
In addition to a reduced risk of coronary heart disease, a recent review of nut consumption and chronic disease showed a reduced risk of diabetes among women, and a protective benefit on gallstone diseases in both sexes. What's more, eating nuts and seeds has also been linked to lower body weight and a lower risk of obesity and weight gain.
Now that I've shared how nuts and seeds are beneficial to your health, the main cautions I must offer to you before you get it crackin' are:
Since they contain fat calories (9 calories per gram of fat as compared to 4 calories from carbohydrates or protein), be cautious while trying to lose weight. Though there is evidence that having some fat while on a weight loss program may protect against gallstones and help with fat-soluble vitamin absorption, still limit your consumption. Two or three tablespoons of ground flaxseed per day or a small handful of raw nuts on a weight loss regimen would suffice.

 

Roasted nuts can come with oxidized oil from the heat. So eat raw nuts (and seeds) most of the time.

 

Pay attention to food intolerance. Some nuts can be allergy producing.

 

Don't eat salt-laden nuts. Prepackaged nuts and seeds are notorious for having too much salt.
Raw nuts and seeds are a superfood. They're a wonderful source of protein, fiber, vitamin E, and fatty acids that appear to protect against the number one killer-heart disease. Nuts and seeds are definitely nutritious and delicious. Even with their good fat content, make sure you eat them in moderation because they're more calorie dense. Remember: fat has 2 1/2 times the calories of a carbohydrate or protein per gram! So be cautious especially if you're trying to watch your weight.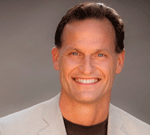 As a certified physician's assistant specializing in nutrition, prevention and integrative medicine, KIRK HAMILTON maintains that if there's one cure all for chronic disease it's what you eat. With his emphasis on consuming more unprocessed, micronutrient dense plant-food along with simple cross-training and mind/body principles, Kirk has been instrumental in guiding his patients and clients toward the path of optimal health since 1983. He has also been a valued educator to health professionals. As the founder of Clinical Pearls Publications, Kirk provided summaries of nutritional research to practicing physicians and researchers around the globe until he sold the company to Tishcon Corp. in 2004. Since 2009 Kirk has hosted his own radio program/podcast titled Staying Healthy Today. He has interviewed hundreds of the top experts in the medical field including Joel Fuhrman, Dr. David Jenkins and Dr. Neal Barnard. Drawing on his 28 year career, in August 2011 Kirk self-published the book titled "Staying Healthy in the Fast Lane – 9 Simple Steps to Optimal Health." His book serves as a guide for individuals, professionals and policy makers on how to create a new health paradigm that is focused on staying well and prevention instead of treatment.
Follow Kirk!
www.prescription2000.com

The greatest medicine of all is to teach people how not to need it.
Read about how to lose weight and prevent chronic diseases by purchasing Kirk's book, "Staying Healthy in the Fast Lane – 9 Simple Steps to Optimal Health." Order your copy here. Enter code "RX40" and receive an automatic 40% off your book purchase.
Dherbs Soultions:
Full Body Cleanse
Dherbs Recipes
2015-09-21T10:46:14+00:00