Note: The following is an excerpt from Kirk's book, "Staying Healthy in the Fast Lane"
It is very simple to shop healthy. In the right store, it can easily be done in less than a half-hour with some very basic principles. While I am a big supporter of organic foods and eating seasonally and locally, I think it is incorrect to say America can't improve its health dramatically by shopping for non-organic whole food in the basic grocery store. To improve health, you have to first stop eating processed foods that are no good and harmful to your body, and in turn eat quality foods that are good for you.
Principles of Grocery Shopping in the Fast Lane
1. Shop the outside, or "perimeter," of the grocery store where the whole, unprocessed foods are (fruit, vegetables, lean meats, etc.).
 
2. Eat whole/unprocessed/raw foods only (organic if possible). Buy the basics: vegetables (raw/frozen); fruit (raw/frozen); raw nuts and seeds; beans (packaged/sprouted); whole grains and sprouted whole grain (try non-glutinous whole grains such as brown rice, quinoa, millet, amaranth, buckwheat); water, mineral water, teas, and 100% real fruit juice.
 
3. If you buy oils, get extra-virgin olive oil and/or coconut oil for cooking (we recommend cooking in medium heat) and ground flaxseed or cold-pressed vegetable oils for salads and for cold sauces. Keep oils to a minimum.
 
4. Do not buy dairy products at all (not from a cow, goat, or sheep; not milk, cheese, yogurt, ice cream, cottage cheese, kefir, butter, etc.) for at least one month completely. *Please don't give a child under the age of two any cow's milk products at all on a regular basis. Aside from food intolerance leading to chronic upper respiratory infections and gastrointestinal problems, of equal concern is that the early introduction of cow's milk products in children may increase the risk of type 1 diabetes, which is not reversible. After the child is weaned, ideally from the mother's breast, rotate in organic almond, rice, or other grain milks, fortified with calcium and vitamin D if you are concerned, and watch for reactions.
 
5. If you want a sweet, refined grain or fatty food, don't put it in your shopping cart. Go out intentionally and buy it later by itself. Only shop for whole foods at the grocery store and only allow whole foods in your house. Build that habit and that base. If and when you choose to eat "junk," enjoy it-but not too much, and only when you are in control of your health!
Stocking Your Refrigerator and Cupboards: The Basics
Let's go to the fridge first. When you open the refrigerator, the vegetable bin should be filled with vegetables, pre-washed or fresh salad greens, spinach, chard, kale, collards — as much green, leafy vegetables as possible. Green, leafy vegetables are not only packed with nutrients, but they are also 100% non-fattening. You are getting the most nutrients per calorie when you are eating leafy greens. Frozen vegetables are fine to have in your freezer as well, just not better than fresh vegetables.
Next, your fruit bin should ALWAYS be full. I keep blackberries, blueberries, raspberries, or strawberries on one of my upper shelves, and the fruit bin is filled with whatever fruits are in season (or in the produce section), which could be apples, kiwis, nectarines, peaches, plums, oranges, grapefruit, and tangerines. I might have some bananas outside the refrigerator. For smoothies and things of that nature, it is easier to keep frozen fruit in your freezer section. Frozen is usually cheaper and you can get organic versions as well.
I keep raw nuts or seeds in the freezer. I will usually have some almonds, walnuts, pecans, and sunflower seeds. Pumpkin seeds are very nutritious, but for some reason don't resonate with me. Generally, I don't eat a lot of cashews and pistachios because I tend to be sensitive to them as well.
In my cupboards I always have cans of cooked beans (mostly organic) and also whole-food, organic types of soups such as minestrone, lentils, split pea, Cuban black bean, and other vegetarian things like chili. My canned products are meatless. I encourage you to do this as well. I buy several quarts of organic vegetarian broth to use in soups, to stir fry, to "quick cook" my greens, or sometimes to cook my pastas or grains in. (The organic vegetable broths in the quart containers have really been a lifesaver for me and revolutionized my cooking!)
It is also good to have a few quarts of marinara sauce on hand (organic is easily available). Your cooking grains can be in the cupboard or freezer, and remember that the first ingredient for any grain or flour product ideally should be "whole grain" or "sprouted grain." I usually have a loaf of sprouted, whole-grain bread in my freezer and one on the shelf in my refrigerator.
I do use, sparingly, extra-virgin olive oil (monounsaturated fat) for cooking. I have been more oil-calorie conscious lately, since really becoming aware that added oils are one of the biggest reasons for excess calories in our diet. I try to get most of my oils from nuts, seeds and avocados. If you are lean having a small amount of cold-pressed oil or spread or extra-virgin olive oil is probably fine. If you have never gone without oil, nuts, seeds or avocado, I suggest you try it for two weeks. It is an interesting experiment. I dropped five pounds without even trying.
Have herbal teas around, especially the green, black, and white teas. Mineral water can be used along with bottled or filtered water. The goal is to drink five or six glasses of water a day. If you feel you have to have some type of milky substance, there are almond, and other different types of "milks," including hemp, hazelnut, oat, multigrain, and rice milks. These can all come fortified with calcium and vitamin D. Buy a variety of them and see which ones resonate with you. When you add a new food, always ask yourself how you feel. Even if on paper it looks good nutritionally but you don't feel well, trust that. There is always an alternative that is nutritious. Always.
I realize some whole-food purists, whom I respect, might look down on eating canned goods or pre-packaged, pre-washed vegetables. Ideally I'd grow my own vegetables, eat totally from my fruit trees, cook all my beans, and wash my own lettuce and greens every day, but it is not practical for me time-wise. One good thing about modern urbanization is that some businesses have done some smart things to make eating healthy in a busy world easier.
By shopping and eating in this way, we can not only be healthy, but we can also help create a new, sustainable economy and jobs centered around producing whole, healthy foods that are convenient for people in the busy, modern world.
---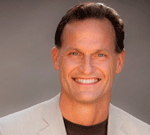 As a certified physician's assistant specializing in nutrition, prevention and integrative medicine, KIRK HAMILTON maintains that if there's one cure all for chronic disease it's what you eat. With his emphasis on consuming more unprocessed, micronutrient dense plant-food along with simple cross-training and mind/body principles, Kirk has been instrumental in guiding his patients and clients toward the path of optimal health since 1983. He has also been a valued educator to health professionals. As the founder of Clinical Pearls Publications, Kirk provided summaries of nutritional research to practicing physicians and researchers around the globe until he sold the company to Tishcon Corp. in 2004. Since 2009 Kirk has hosted his own radio program/podcast titled Staying Healthy Today. He has interviewed hundreds of the top experts in the medical field including Joel Fuhrman, Dr. David Jenkins and Dr. Neal Barnard. Drawing on his 28 year career, in August 2011 Kirk self-published the book titled "Staying Healthy in the Fast Lane – 9 Simple Steps to Optimal Health." His book serves as a guide for individuals, professionals and policy makers on how to create a new health paradigm that is focused on staying well and prevention instead of treatment.
Follow Kirk!
www.prescription2000.com

The greatest medicine of all is to teach people how not to need it.
Read about how to lose weight and prevent chronic diseases by purchasing Kirk's book, "Staying Healthy in the Fast Lane – 9 Simple Steps to Optimal Health." Order your copy here. Enter code "RX40" and receive an automatic 40% off your book purchase.
Dherbs Solutions:
2015-09-21T10:46:56+00:00