It's kind of hard to dislike watermelon. Not only is it one of the most classic picnic or potluck fruits, but it also one of the best childhood snacks, especially during the hotter, summer months. Whether you are chowing down on a huge watermelon slice at a music festival or eating watermelon cubes on a sandy beach, there is never a bad time to eat watermelon.
Since watermelons are about 92% water, they help to keep you hydrated. Don't let the water content fool you, though, because each bite is rich in vitamins A, B6, and C, as well as other antioxidants and amino acids. Antioxidants help to fight free radicals, while amino acids are the building blocks of protein. Watermelons are also low in calories (roughly 40 calories per cup), low in sodium, and they are fat-free!
A Little History
Originally from southern Africa, the watermelon is a flowering vine that is referred to as pepo, a berry that has fleshy center and thick rind. While it has "melon" in its name, watermelons are technically not melons. Watermelons were cultivated because of their ability to hold water in a hot desert landscape.
To celebrate National Watermelon Day, which is August 3rd, here are some of our favorite watermelon recipes.
Rosemary Watermelon Juice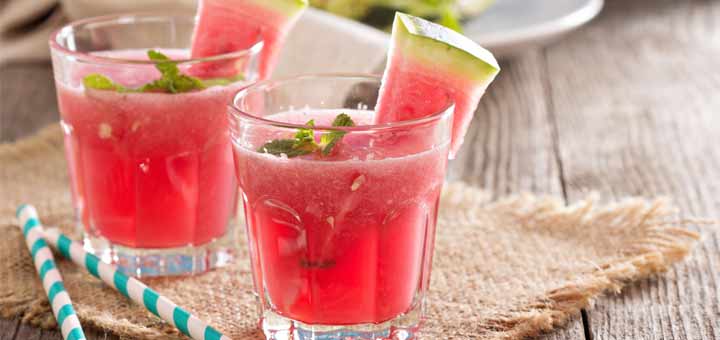 Watermelon is loaded with lycopene, an antioxidant compound that can help lower your blood pressure. You can also blend the rind with the melon and lemon juice to get an excellent dose of chlorophyll, which is important for a healthy heart and immune system.
Click here to make the recipe.
Frozen Watermelon Pops With Cucumber & Lime
This may be one of our favorite dessert recipes, especially during the summer. It is refreshing, subtly sweet, and it can help you stay hydrated in the heat. These are great for a summer party!
Click here to make the recipe.
Watermelon & Pineapple Salad With A Mint Dressing
This is a great salad for summer. The freshness of the fruit is complemented by the herbaceous dressing. We definitely recommend adding the optional fruit to make a more filling and colorful salad.
Click here to make the recipe.
Hydrating Watermelon Sorbet
Just when you thought watermelon couldn't get any better, it did with this refreshing sorbet. If you'd rather have more of a slushie, you can use a little more water. A thicker sorbet will come from using less water and more ice. If you're feeling a little experimental, add in a few mint leaves!
Click here to make the recipe.
2022-03-07T05:45:02-07:00