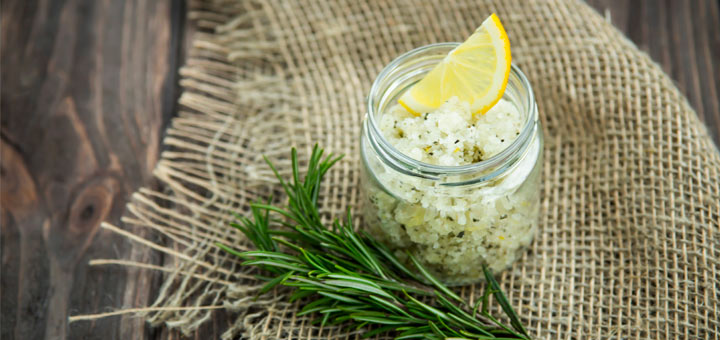 Do you ever sit and wonder how you can naturally soften the skin without going to the spa? If you do, then you came to the right article because the lemon rosemary sugar scrub recipe rejuvenates and cleanses the skin. This scrub, and sugar scrubs in general, works to brighten tired, dull-looking skin to enhance your overall complexion. Using sugar scrubs is also a great way to fight aging in a natural way!
The great thing about using sugar to exfoliate the body is that sugar contains minerals that benefit the skin. Glycolic acid exists in natural sugars, but other minerals also work to keep toxins from entering pores. Most sugar is mildly abrasive, which works to slough away dead skin cells. Regular exfoliation can help refresh tired-looking skin and unclog pores. Additionally, sugar is a natural humectant, meaning it does not strip your skin of moisture; rather, it works to keep your skin hydrated. The other ingredients in this scrub also benefit the skin, and you can read about them below.
Rosemary
Common in numerous culinary creations, rosemary exhibits a signature, herbaceous flavor profile. It also exhibits anti-inflammatory, anti-aging, and astringent properties, making it a great natural ingredient for your skin. According to research, rosemary works to strengthen capillaries and increase circulation, which contributes to a natural glow. The anti-inflammatory properties may fight against puffiness after sleeping, especially around the eye area. Just be mindful of the eyes if you apply it under the eyes to get rid of puffiness. If you have sun or aging spots, rosemary also has phytonutrients and antioxidants that can help combat them.
Lemon
This versatile citrus fruit has many uses in the kitchen and in beauty products. Lemons exhibit amazing detoxifying benefits and they work to fight against acne, hyperpigmentation, and aging spots. The high concentration of vitamin C in lemon works to protect the skin from free radical damage, helping to slow the aging process. Additionally the citric acid is a natural astringent that works to regulate oily skin and shrink large pores. Citric acid also works to exfoliate the skin's surface to reveal brighter, glowing skin underneath dead skin cells and grime. While the exfoliating properties help to fight against acne, so do the antimicrobial and anti-inflammatory properties. Moreover, the astringent properties in lemon juice help prevent breakouts by reducing itching and inflammation.
DIY Lemon Rosemary Sugar Scrub
Ingredients
1 cup extra fine granulated sugar
1/2 cup grapeseed oil
2 tablespoons dried rosemary leaves
2 tablespoons freshly squeezed lemon juice
Zest of one lemon
1 teaspoon rosemary essential oil
Instructions
Add all of the ingredients to a medium-sized mixing bowl and stir until thoroughly combined.
Spoon this mixture into a glass jar that has an airtight seal. Store this in a cool, dry place.
When ready to use, scoop out a small amount with your fingertips and gently massage it into your skin. It works great on the hands, arms, elbows, feet, and other areas of the body.
If you decide to use it on the face, please be careful to avoid your eyes, and apply it more gently than you would on other areas of the body.
Use within one month.
2022-07-29T00:48:56-07:00