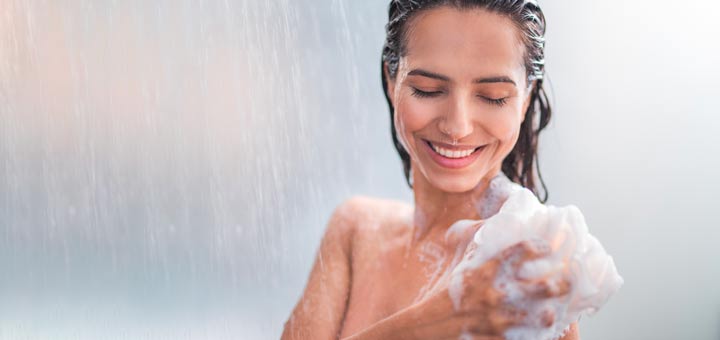 For most people, the skin care routine starts outside the shower. This typically involves cleansers, toners, moisturizers, lotions, oils, and more. It's interesting that some people don't recognize that their bathing routine plays a large role in the overall health and appearance of their skin.
People buy store bought soaps, body washes, and shampoos because it's convenient to do so. Some of the smells are enchanting, but you can't smell the chemicals that damage the skin. The problem with most commercial body washes is the ingredient list. The long list of ingredients often contains some of the following, hard-to-pronounce ingredients:
Ammonium laureth sulfate
Glycolic acid
Methylparaben
Urea
Alpha hydroxy acid
Triethanolamine
Triclosan
Cocamidopropyl betaine
Disodium cocoamphodiacetate
Salicyclic acid
Phenoxyethanol
And those are just some of the harmful ingredients! Now, we do have one disclaimer: an ingredient with a complex name isn't always bad for you. That doesn't mean you need to trust these chemical soaps, though. In fact, we recommend that you avoid them and create your own homemade body wash. You'll know exactly which ingredients are benefitting and nourishing your skin. We've highlighted two excellent ingredients from the body wash in this article below.
Oats
This classic superfood does wonders for your digestive system, but it's also great for your skin. You can incorporate oats into scrubs, masks, bath soaks, soaps, and more! If you have dry skin, the lipids and proteins in oats help to provide optimal moisture. Oats also have anti-inflammatory properties that help reduce itchiness, which is beneficial for people with eczema or psoriasis. Since you will be incorporating oats into your body wash, you should know that oats have powerful cleansing properties. Oats contain saponin, which works to wash away impurities and re-mineralize the skin without wiping away essential nutrients. Finally, oats help you strip away dead skin cells to help you achieve a rejuvenated, vibrant complexion.
Avocado Oil
Just like oats, avocado oil is both beneficial to include in your diet and your skin care routine. Rich in vitamins A, D, & E, omega-3 fatty acids, lecithin, and potassium, avocado oil helps to moisture the outermost layer of the skin, the epidermis. These nutrients are easily absorbed, which helps your skin retain moisture for a lot longer. Avocado oil is also similar to oats in that it has anti-inflammatory properties that reduce inflamed skin. Be it acne or some sort of redness associated with eczema, avocado oil can help hydrate the skin, calm it, and leave it feeling refreshed. The best part is that there is no oily residue!
DIY Oatmeal Lavender Body Wash
Ingredients:
3 cups filtered water
1/4 cup rolled oats
1/4 cup liquid Castile soap
6-12 drops lavender essential oil
1 teaspoon vitamin E oil
2 teaspoons avocado oil
Foaming dispenser
Instructions:
Pour the water into a saucepan and bring it to a boil. Once it is boiling, remove the saucepan from the heat.
Add the oats to a heat-safe glass bowl and pour the boiling water over the oats. Let this sit for about one to two hours before straining the water to remove the oats. Make sure you save the water and discard the oats.
Pour the Castile soap, lavender essential oil, vitamin E oil, and avocado oil in a small bowl and whisk to combine.
Add enough of the soap/oil mixture to fill about 10-15% of your soap dispenser. Pour the oatmeal water into the dispenser until it's almost full.
Screw on the top and you're good to soap!
2022-04-20T03:05:23-07:00