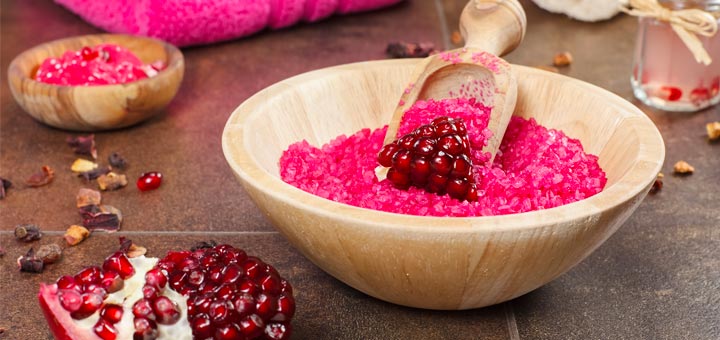 Stress can take a heavy toll on the body, and people can experience myriad side effects from and overabundance of stress hormones. Often times, stress can cause excessive itchy or dry skin, or it can cause acne breakouts. These things cause you to stress out even more, which is unfortunate for your skin.
It's necessary to carve out a portion of the day and dedicate it to skin care. Be it soaking in a bath of essential oils, exfoliating with a sugar scrub, or moisturizing with natural ingredients, these things help to reduce stress. Not to mention, they also do wonders for your skin. And that's exactly why we want to you to get excited about the sugar scrub in this recipe. The ingredients in the sugar scrub may contribute to more youthful-looking skin by offering a wide range of antioxidants. They also help to remove dead skin cells and bacterial build-up. You can read more about the benefits of the ingredients below.
Oranges
Replete with intoxicating aromas, powerful essential oils, and nourishing vitamins, oranges are great for your skin. Many cultures revere them for their skin-enhancing properties, and we encourage you to incorporate them into your regular beauty routine. Why should you do this? According to research, the citric acid in orange peels aids with skin exfoliation. It helps to dry out acne and improve the overall appearance of your skin. Orange peels also contain natural oils that work to moisturize your skin and keep it softer, smoother, and looking younger. Finally, orange peels are naturally rich in vitamin C, which contributes to a healthier glow by helping the body form elastin and collagen.
Pomegranates
Not only are pomegranates delicious, but they are also excellent for your skin. The same polyphenols that help reduce inflammation and early signs of aging internally help externally as well. Applying pomegranates on the skin can lead to a reduction in inflammatory-related disorders, including eczema and acne. The antioxidants also help to get rid of dead skin cells because they have exfoliating properties. Regular exfoliation can help reduce the signs of both aging and acne. Additionally, some studies found that pomegranates offer protection against ultraviolet (UV) rays. You shouldn't swap pomegranates for sunscreen, but they do help protect your skin from UV exposure.
The following pomegranate orange scrub is incredibly easy to make! Make sure to exfoliate with it if you feel stressed or anxious. Just lock yourself in the bathroom, turn on a hot shower, and start scrubbing your body with this magical, stress-relieving concoction. Let us know how you like it in the comments below.
DIY Pomegranate Orange Sugar Scrub
Ingredients:
2 cups white sugar
1/4 cup pomegranate arils
2.5 tablespoons organic olive oil
zest from 1 orange
Instructions:
Combine 1/2 cup of sugar and the pomegranate arils in a medium-sized mixing bowl and mix well.
Using the back of a spoon, gently press the arils down into the bottom of the bowl to crush them. Do so gently to avoid the spray of pomegranate juice.
Add the remaining sugar, olive oil, and orange zest to the bowl and mix well.
Transfer the mixture to a glass jar and store in the refrigerator to keep fresh.
When ready to use, apply a healthy amount to wet skin in the shower and rub gently. Rinse with warm water and pat dry once you finish showering.
2022-04-19T23:27:46-07:00