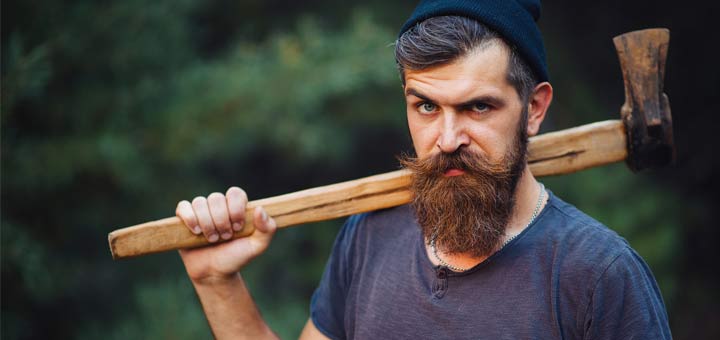 In case you haven't noticed, the beard is popular and it is here to stay. If you have a beard, are you caring for it properly? It sounds like we are talking about a pet, but, in all seriousness, your beard is something that you need to maintain, unless you are going for that "I live with the wolves" look.
Washing your beard is a great first step, but using a beard balm or oil can help to moisturize and condition the beard and face. The best thing about this DIY beard balm is that it makes your beard smell like the wilderness, courage, and freedom (no scientific studies have been conducted in regards to smelling like courage and freedom).
Rosemary
Rosemary has incredible anti-aging benefits, which can be reaped from both the essential oil and the plant itself. By applying the leaves or diluted essential oil topically, you can improve the quality of your skin. The properties of rosemary can help heal blemishes and give your skin a natural, healthy, and refreshed glow.
Pine
When it comes to pine, the needles, cones, and bark all contain medicinal properties. The pine needles contain vitamin A, which helps to prevent oxidative stress on the skin. Additionally, pine helps to reduce blemishes and moisturize the skin.
If you have a beard, try making this beard balm and let us know how it works for you.
Ingredients:
½ cup rosemary & pine infused oil (instructions below)
¾ ounce beeswax
½ ounce refined Shea butter
6 drops rosemary essential oil
6 drops pine essential oil
3 drops sweet orange essential oil
Instructions:
To make the rosemary & pine oil, gather fresh pine needles and a few sprigs of rosemary. Place them in a jar and cover them with the carrier oil of your choice (we recommend jojoba oil or olive oil). Let this sit in a dark place for two weeks.
Remove the rosemary sprigs and pine needles from the oil and set aside.
Using a double boiler, melt the beeswax and Shea butter. Pour in the rosemary pine oil and continue stirring until everything is melted. Remove from the heat once everything is melted.
Stir in the essential oils and carefully pour into little tins or glass jars with lids. Let them cool for several hours so that they harden.
Once they have hardened, you can use this to moisturize your beard and your hands! Rub a dime-size amount in your hands and apply to your beard and skin. You can do this once a day after you wash your beard.
2022-02-11T01:12:56-07:00