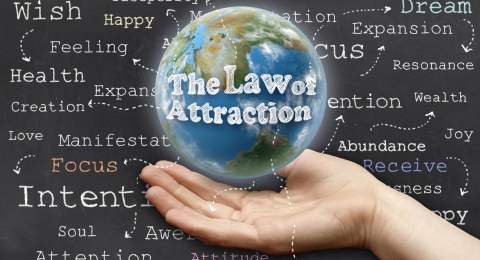 Are You Having a Hard Time Mastering the Law of Attraction?
 Learn a Fast and Easy Shortcut!

Those of you that are familiar with the Law of Attraction know that it's a very powerful Universal Law that states "Whatever you focus on you will tend to attract into your life." If you focus on suffering you will tend to attract more suffering into your life. If you focus on prosperity you will tend to attract more prosperity into your life. This scientific truth is the key to living the happiest & most fulfilling life possible but it can be very difficult to master – and it can take you a long time before you really get the hang of it. But the great news is, we've invented a fun & easy exercise that can help you to reap all of the benefits of the law of attraction – without having to put in all of the hard work. It's called the "Holding It" game and playing it will immediately change your life.
The Holding It Game…
Remaining focused on staying positive and feeling good can be extremely difficult especially since we humans lose our focus every 7 to 10 seconds on average. And the constant distractions of day to day life make it even more difficult to remain on that higher spiritual vibration. But the Holding It game makes it remarkably easy to remain focused on thinking positive and feeling good. Which of course, will enable you to attract more things, people, and circumstances in your life that will make you think positive and feel good (more money, better health, better relationships, etc). And it's fun to play as well.
Here's how it Works…
1. Think of something that makes you so happy that it makes you feel butterfly sensations in your stomach. You can use an experience that has already happened or an experience that you would like to happen.
2. Once you feel the butterfly sensations in your stomach… hold that sensation for as long as you can. this is what we refer to as "Holding It."

The Goal…
The goal is to hold onto the butterfly sensations for as long as you can throughout the course of your day. The more you practice this the easier it will be for you to Hold It for long periods of time. Eventually you will be able to literally hold onto the butterfly sensations all day long.
The Game…
Throughout the course of the day we will randomly send out Tweets and Facebook posts asking "Are you holding it?" If you are not Holding It, be honest and simply reply, "No I am not Holding It." Then immediately start Holding It. If you are Holding It, then simply reply "I'm Holding It!"

The Benefits…
When you are Holding It you will immediately be happy and feel good. At that point the Law of Attraction will respond by bringing you more things, people, and circumstances that make you happy and feel good (including great health, love, money, etc).
---
Anthony Clark (The Game Dr,) was born and raised in Brooklyn New York and is a former male escort. Melanie Clark was born and raised in Fresno California and is an former model. 2 decades ago they met in a nightclub and were immediately attracted to each other. Ever since then they have been inseparable. This husband & wife duo have been together for 20 years and are still madly in love. They are proud parents of 3 beautiful children, they are best friends, and they are soul mates. Anthony & Melanie's extraordinarily successful marriage is proof that they know what it takes to find love and make it work. 15 years ago they became dating & relationship coaches so that they could share their secrets to romantic success with others. They are also international authors, professional speakers, and creators of "Luxury Relationship advice" – which is designed to meet the progressive dating & relationship desires of today's generation of men & women. The Amazing Clarks have a non-traditional approach to love & dating that resonates with the relationship lifestyle that today's couples and singles desire. They are incredibly entertaining, open minded, and non-judgemental. They say what they think and refuse to be politically correct. Their groundbreaking philosophies are the perfect balance of science, spirituality, and real life experience. The Amazing Clark's mission is to teach the world to say "Hell no to the status quo" and introduce them to new & better ways to love & date.
Follow Us!
theamazingclarks.com
2015-09-21T10:30:02+00:00