Deep down most people recognize that the mind is the most powerful part of our bodies. Generally, however, it is the least talked about in obtaining optimal health because it is hard to quantify improvement and progress from a "mental workout." It's not like witnessing the pounds coming off your frame from healthy dieting. Nor is it as evident as working with weights and the ability to see muscle definition forming or endurance improving from regular workouts on a treadmill.
Even though it's hard to measure progress, the mind needs equally as much exercise as the body. One of my favorite quotes to share with patients is to "train your mind as you would train your body for a marathon. Do it daily with intention."I encourage my patients to set a plan to train their minds in whatever discipline(s) that feels right and commit to it just as they would an exercise regimen. Just as you can't train for a marathon in a week, a mental workout requires the stick-to-itiveness of at least six months to a year for maximum results.
In maintaining a mental workout I believe it is essential to do three things on a daily basis:
1. Be thankful.
Being thankful (or living in a state of gratitude) is an incredibly important and simple mental state of intention we can do to create a happy life, good health, and make the world a better place to live. A thankful mind/spirit acknowledges and puts faith into action that there is a loving God or universal power. Some of the "magic" that comes from having a grateful attitude is that your mind will be so full of thankfulness that there won't be any room for negative thinking. Trust me: you won't have to try not to have negative thoughts; there just won't be any space for them!
Since being thankful is a happier way to live than being negative, you have nothing to lose by practicing this. So start by just committing to being thankful for a few minutes every morning and evening. Then expand it throughout your day. It's a wonderful way to live and will improve your physical and emotional health.
2. Be quiet daily for 15 to 60 minutes.
Any type of meditative time–whether it's a traditional meditative practice or a prayer session, walking on the beach, or just sitting–is a critical component to being well. Modern society provides so much for us to do that our minds find it difficult to be "empty" to receive or "hear" guidance from within.
For me, a transformational practice for the last couple of years has been just sitting physically still for fifteen to thirty minutes each day. I don't try to meditate or empty my mind of thoughts. I just accept the thoughts that come and don't worry about them. In the past when I tried to meditate, I always felt I failed. I would have so many thoughts in my mind and would "fight" to get them out of my mind.
Try just being physically still for 15 to 30 minutes each day in the same location without worrying about your thoughts. It sounds simple, but practicing this every day has changed my life. Before I sit, I do one thing: I ask to see my next step clearly when I come out of my quiet time. "My next step" refers to what I will need to do to continue living my life's purpose, passion, and potential. I usually end up seeing my next step or recognizing it sometime later in the day or the next day. But I always end up seeing it!
3. Hold a vision of what you want for your body and your life.
Think about what you want, not about what you don't want. Write it down. Picture it!
One thing I have noticed over the years is that chronically ill patients have no idea of what it's like to be well. If you ask them to picture themselves well or living their ideal life, many times they have no idea of what that might be. They can't even begin to imagine or describe it.
We create our reality first in our minds. What we think we become. The magic of picturing yourself well keeps you from thinking the worst about yourself, which strips you of hope. If nothing else, visualizing ourselves being well keeps us from focusing on being sick and all our other problems, which doesn't help anyone.
One of the most important things you can do is just sit and imagine yourself in a perfect state of well-being–whatever that means to you. The other image is picturing your ideal life: what it is that you really want to do each and every moment. What excites you?
I call this practice "giving your body the live message!" However you can give your body the live message is very important for living a truly healthy life. For me, it's living my life's work and being successful at it: teaching, writing, and encouraging people how to be and stay well and to live their life's passion. That is my joy and purpose. When I am living this, I feel whole, vibrant, and alive. In my most frustrating times, when that goal seemed farthest away, I felt as if I was dying.
I believe your mind leads your body. It is the master. That said, any way you get positive momentum going or tighten a few spokes, whether you start with your mind first or physical changes from diet and exercise, moving positively is the key. Ideally, you do it all at once, tightening a couple of mental and physical spokes at the same time. Once you marry your positive mental practices with good lifestyle practices, wonderful things happen. I guarantee it!
---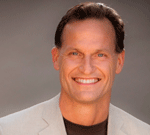 As a certified physician's assistant specializing in nutrition, prevention and integrative medicine, KIRK HAMILTON maintains that if there's one cure all for chronic disease it's what you eat. With his emphasis on consuming more unprocessed, micronutrient dense plant-food along with simple cross-training and mind/body principles, Kirk has been instrumental in guiding his patients and clients toward the path of optimal health since 1983. He has also been a valued educator to health professionals. As the founder of Clinical Pearls Publications, Kirk provided summaries of nutritional research to practicing physicians and researchers around the globe until he sold the company to Tishcon Corp. in 2004. Since 2009 Kirk has hosted his own radio program/podcast titled Staying Healthy Today. He has interviewed hundreds of the top experts in the medical field including Joel Fuhrman, Dr. David Jenkins and Dr. Neal Barnard. Drawing on his 28 year career, in August 2011 Kirk self-published the book titled "Staying Healthy in the Fast Lane – 9 Simple Steps to Optimal Health." His book serves as a guide for individuals, professionals and policy makers on how to create a new health paradigm that is focused on staying well and prevention instead of treatment.
Follow Kirk!
www.prescription2000.com

The greatest medicine of all is to teach people how not to need it.
Read about how to lose weight and prevent chronic diseases by purchasing Kirk's book, "Staying Healthy in the Fast Lane – 9 Simple Steps to Optimal Health." Order your copy here. Enter code "RX40" and receive an automatic 40% off your book purchase.
Dherbs Solutions:
2015-08-27T11:50:26+00:00