Maybe you read that your favorite musician or actor went vegan, or perhaps you saw a vegan propaganda documentary that convinced you to give up meat. There are those who contemplated making the switch to a vegan or vegetarian diet, but didn't want to give up the taste or texture of meat. Then, all of a sudden, fake meats skyrocketed to popularity, making it seem that giving up meat was easy.
People have become obsessed with faux meat options, thinking that they are making healthier food choices by ordering Beyond Meat or Impossible Burgers. What people fail to recognize is that these new non-meat options are heavily processed and often contain ingredients like expeller-pressed canola oil, natural flavors, gum arabic, succinic acid, refined coconut oil, maltodextrin, pea protein or potato protein, annatto extract, potato starch, xantham gum, and non-GMO modified food starch, depending on the product.
The Fake Meat Debate:
In the heat of the fake meat craze, the ultimate question has become: Are fake meats healthier than real meat? Given that there is a processed food complex and unhealthy factory farming in the United States, there is no clear-cut answer to give. One study in the Journal of the American Medical Association noted that people should be aware of the risks of diets that are high in processed, antibiotic-rich red meat, but they should also be cautious of the effects of processed fake meat alternatives.
One concern that many nutritionists have with these faux meats is that some contain glyphosate, which is an active ingredient in Roundup. In 2015, the World Health Organization (WHO) classified glyphosate as a probable carcinogen, and California followed suit in 2017, mandating that all products containing that ingredient have warning labels on the packaging. A 2016 review of human and animal studies linked glyphosate to kidney and liver damage, in addition to endocrine disruption. Nutritionists know that glyphosate disrupts the gut microbiome, but they are more concerned with the potentially harmful effects that haven't been exposed yet.
The Bottom Line:
If you want to make the switch to a vegetarian or vegan diet, it is recommended to focus on real foods that are nutritionally dense. Fresh is always best, and it's best to avoid processed and refined food products as much as possible. But…we understand that some people want to eat foods that remind them of meat, which is why we post recipes of how you can eat meat-like meals on a plant-based diet. Check out the following meat-less recipes that are healthier and better tasting than faux meats.
Jackfruit "Chicken" Salad:
Forget about the chicken because we have jackfruit! This "chicken" is filling, creamy, and will keep you coming back for more.
Click here to make the recipe.
Raw Mock "Chicken" Salad: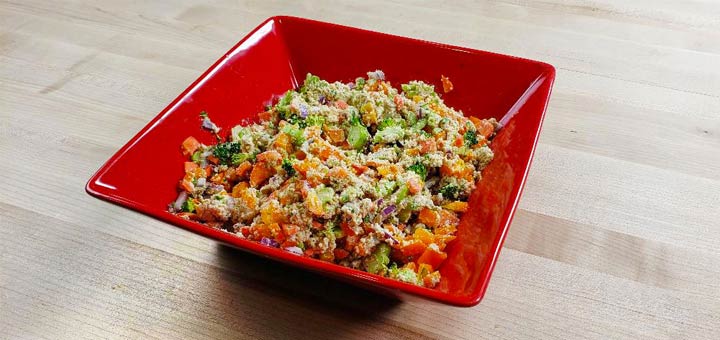 This recipe doesn't taste like chicken, but the different vegetables and bold flavors definitely make you think that you are eating chicken salad. Try it out and taste for yourself.
Click here to make the recipe.
Raw "Tuna" Collard Wraps:
If you are tired of eating salads and want a meal that will make you appreciate the possibilities of raw food, or a meal that is reminiscent of a tuna sandwich, you need to try these wraps.
Click here to make the recipe.
Jackfruit Carne Asada:
Flavors are not limited to certain diets. You can use seasonings with vegan ingredients to create dishes you know and love like this recipe.
Click here to make the recipe.
Raw Lettuce Tacos With "Chorizo" And Salsa:
Skip the soy and make your "chorizo" out of nuts and spices! This recipe bursts with flavor in every bite! It's a party in your mouth, a party to taco 'bout ;)
Click here to make the recipe.
Sources:
https://www.drweil.com/diet-nutrition/food-safety/is-fake-meat-healthy/
https://www.bloomberg.com/news/articles/2019-09-18/faux-meat-has-a-real-threat-with-opponents-attacking-healthiness
http://www.bu.edu/articles/2019/is-fake-meat-healthy/
https://www.refinery29.com/en-us/healthiest-meat-substitutes-for-vegetarian-diet
2020-02-05T13:26:33-07:00