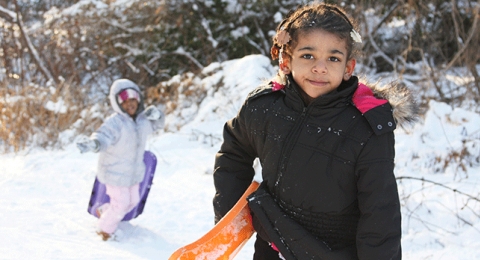 Winter Solstice, the first official day of winter, often gets short-shrift due to its proximity to Christmas and the fact that many people are often buried in snow and ice, and fighting the bitter cold.
Which might lead you to ask: why celebrate winter? What I usually hear is that most people can't wait for it to be over. All that cold weather and darkness makes them wish for the long, warm days of summer.
Well, here are some things that are unique to winter and, in my opinion, worthy of celebration.
To start with, winter has been celebrated since ancient times as a season of light and nature. Once the solstice comes — December 21st — the days begin to get brighter again, and eventually, the summer sunlight returns. The first day of winter is a sign that literally, brighter days are ahead. The shortest day of the year is just that — each day after gets longer and brighter.
The lights of winter. Let's face it, whether they are lighting up a Christmas tree, or burning as candles on your Hanukkah menorah, lights are all around us this season. Most communities light up their downtown areas and beyond; there are holiday decorations as far as the eye can see, and even the stars seem to glow brighter on a cold winter night.
Winter colors. While white is definitely the predominant color of winter, there are so many others that we often overlook. Winter skies bring a mixture of grey, blue, and at sunset, golden oranges mixed in. The varied lights and decorations of the holidays also add a splash of cheer to this otherwise bleak time of year.
Hot winter beverages. I am a lifelong tea drinker and although I drink it daily, even during the hottest days of summer, there's something much more satisfying about drinking a nice hot cup of cocoa or a café mocha when the weather is cold. During winter you can feel it warming you up from the inside.
See: The Perfect Winter Cocktail
Hockey! Or, if you aren't a hockey fan, other winter sports. While the NHL has managed to make it seem that hockey lasts all year, the fact that it is played on ice with plenty of padding and gear, makes it the quintessential winter sport. For those who like skiing or snowshoeing, ice skating, or other winter sports, you know the time you have for it is precious and that makes it seem even more special.
Are any of your favorites on the list? What did I forget? I would love to hear some of the things that you like about winter.
By: Judi Gerber
Source: www.care2.com
2013-12-17T12:58:14+00:00