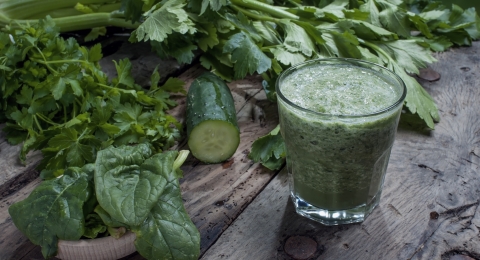 It has been a while since I posted a smoothie recipe on the blog. Smoothies, I think, are the kind of recipes we all start to take for granted after a while. Most of us have a go-to smoothie formula that we use day in and day out (for me: 1 frozen banana, 1/2 cup berries, 1 cup almond milk, 1 tablespoon nut butter, hemp protein, greens) that we sort of forget to mix up the routine, experiment with new combinations, and so on.
The smoothie I'm sharing today actually happened out of necessity; I'd run out of blueberries and almond butter, but I did have some frozen green grapes (because they're a favorite snack lately) and some avocado (because duh). I thought that these ingredients, along with some herbs and spinach, would make a great, summery green smoothie, and I was right. This smoothie isn't as hearty as some of my others, but it's incredibly refreshing and delicious. And who can resist such a vibrant shade of green?
If you don't care for green grapes, then feel free to use the red ones (though the color won't be quite as bright). You can also substitute grapes for frozen mango or pineapple or pear. (The latter is a particular favorite of mine in smoothies, even though it's not seasonal right now.)
Avocado, Grape, Banana, and Cilantro Green Smoothie
Ingredients
1 small banana, peeled, cut into pieces, and frozen
1 cup green grapes, frozen
1/2 cup cucumber, chopped
1/4 large or 1/2 small Hass avocado
1 heaping cup spinach or kale
1/4 cup fresh cilantro or parsley, washed well and tightly packed
1 cup coconut water (+ extra as needed)
optional: 1 teaspoon freshly grated ginger
Instructions
Blend all ingredients in a high speed blender till smooth, adding more coconut water as needed. Serve, garnished with herbs.
The addition of fresh ginger certainly isn't necessary, but it does add a lot of flavor to the smoothie. And you'll note that parsley is a fine substitution for cilantro, if you happen to be in the anti-cilantro camp!
Source: www.choosingraw.com 
2015-08-31T10:00:02+00:00