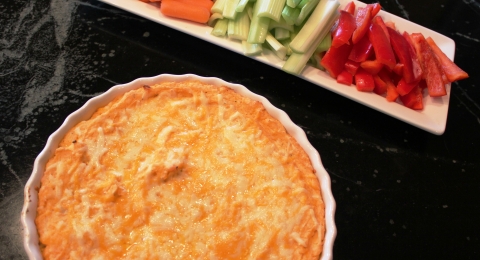 You know what's so awesome on game day? Dipping veggies (or crackers…or your fingers) in a spicy, buffalo dip with a creamy blue cheese dressing layer. You know what isn't so awesome? All of the not so great ingredients that consists of. So, this entirely plant-based dip was born! Now you can let your celery (or again, your fingers) swim in some tangy, rich decadence – sans guilt.
BUFFALO CAULIFLOWER DIP [VEGAN, GLUTEN-FREE]
INGREDIENTS
Blue Cheese Dressing:
1 package hemp tofu
1/2 can artichoke hearts + 2 tsp. liquid
3 tbsp. almond milk (or other non-dairy milk)
1.5 tbsp. apple cider vinegar
1 tsp. mustard powder
juice of 1/2 lemon
1 tbsp. tahini
pepper
salt
Buffalo Cauliflower Layer:
 1 head cauliflower, chopped into small florets
1 c. wing sauce (Make sure you check that it is vegan)
2 tbsp. olive oil
1 tsp. garlic powder
PREPARATION
For the Dressing:
Combine ingredients in a blender or food processor until creamy. *If you use soy tofu, you will only need to use half the pack, as the package of hemp tofu is about half the amount of soy tofu.
For the Buffalo Cauliflower:
Pre-heat oven to 425 F.
In a bowl, combine buffalo sauce and garlic powder and set aside.
Toss florets into a bowl with olive oil and coat. Place in oven for 20 minutes, turning halfway through cooking time. Remove from oven and coat with buffalo sauce. Place back in oven for an additional 5 minutes. Remove cauliflower from oven and allow to cool.
Transfer to blender or food processor and blend until there are no remaining whole florets. Layer a baking dish with one layer buffalo cauliflower mixture, one layer dressing, and finish off with another layer of the buffalo cauliflower mixture. Top with cilantro and serve with celery.
Source: www.onegreenplanet.org
2015-08-03T11:51:52+00:00