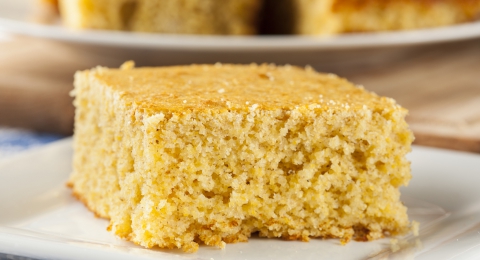 The buttery flavor is attained by using a combination of avocado oil (the butteriest!) and a small dallop of Vegenaise. Definitely use fresh corn kernels if corn is in season, if not frozen will work fine (or leave them out entirely). For the record, my friend LOVED this cornbread, and cared not that it was both vegan and gluten-free. Southern approved!
BUTTERY CORNBREAD SQUARES [VEGAN, GLUTEN-FREE]
THIS RECIPE IS :
Dairy Free, Gluten Free and Vegan
INGREDIENTS
1 cup cornmeal
1 cup Bob's Red Mill Gluten-Free flour (or wheat flour, if not GF)
2 tsp baking powder
1/2 tsp sea salt
pinch chili powder
1 Tbsp flax meal
1/4 c maple syrup (or sugar)
1.5 Tbsp Vegenaise
1/4 c oil (avocado oil is great, but canola, grape seed, or coconut should work as well)
1 cup water
1 cup corn kernels
PREPARATION
 Preheat oven to 450 degrees. Lightly oil 8″x8″ or 9″x9″ baking pan with a bit of neutral oil.
In a large mixing bowl, combine dry ingredients, cornmeal through flax meal and stir.  In a measuring cup combine the maple syrup, oil, and 1/2 cup water. Add to dry ingredients along with the Vegenaise and remaining water. Stir well to combine.
Pour into prepared pan and bake for 20 minutes until golden and knife inserted comes out clean. Let cool for 5 minutes, then transfer to a wire rack and cool for another 10 minutes. Cut into squares and serve. Enjoy with vegan butter (or salted coconut oil), chili, salad, you name it!
2014-11-26T12:42:37+00:00