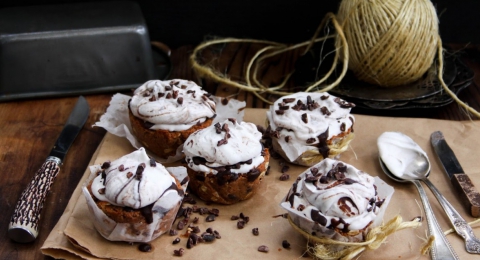 These cupcakes are moist, chewy, flavorful and delicious! You can whip 'em up in just a few minutes and share them with vegan skeptics to show how a-freaking-mazing our grub can be. Or if you're not vegan, just make them and see what you think! Vegan food doesn't require a vegan palate to be appreciated.
CARROT CAKE CUPCAKES WITH WHIPPED COCONUT CREAM AND CHOCOLATE [VEGAN]
THIS RECIPE IS :
Dairy Free and Vegan
Cupcakes:
2 cups carrot pulp (or ground up carrots)
1 1/4 cups dates
1 cup walnuts (or other nuts)
1/2 cup rolled oats
2 tablespoons coconut oil
1 teaspoon ground cinnamon
1 teaspoon ground nutmeg
Water, if needed
3/4 cup raisins
Whipped coconut cream:
1 1/2 cups whipped coconut cream
1 1/2 cups raw cashew cream
Chocolate:
PREPARATION
To make the cupcakes:
Pulse the nuts into powder in a food processor. Add the dates and coconut oil and process until it all gets sticky. I added a little bit of water here so I ended up with a slightly gooey mixture before adding the rest of the ingredients.
Add the rest of the ingredients and process until it's all evenly combined and still pretty sticky (you can do this last step in a bowl with your hands or spoon if you want). I like when there's whole raisins in the cupcakes so I added those after it was all mixed. Also feel free to add more spices!
Press the "dough" into lined cupcake tins or papers, or really any shape you like! Set in the fridge for a couple hours at least. Or you could "bake" them at 250 degrees for an hour or two, so they get warm and intensify their flavor. This might also help them stick together more. Up to you.
Swirl the chocolate sauce into the whipped coconut cream and decorate your cupcakes with it! Alternatively, scoop on some coconut cream and then drizzle the chocolate over it. I sprinkled mine with cacao nibs too.
2014-11-12T12:50:27+00:00