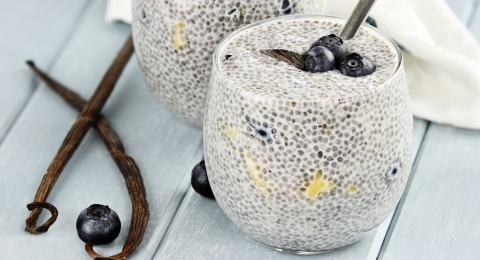 When left to soak, chia seeds release absorb liquid which softens them while thickening the liquid they were soaking in. This results in a pudding consistency, with all of the benefits of chia seeds! This recipe is sweet and nourishing while also being highly customizable.
CHIA PUDDING WITH BLUEBERRIES [VEGAN, RAW, GLUTEN-FREE]
THIS RECIPE IS :
Dairy Free, Kid-Friendly, Raw Vegan, Soy Free, and Vegan Wheat Free
INGREDIENTS
1⁄2 cup white chia seeds
1 & 1⁄2 cups almond milk
1 tsp agave nectar
1 tsp vanilla essence
1 tsp ground cinnamon
1⁄4 cup frozen berries (optional)
PREPARATION
Place all ingredients in a bowl and stir.
Leave in fridge overnight to soak. The chia seeds will become gel like.
Divide into bowls, garnish with berries and serve.
2015-01-05T11:38:41+00:00