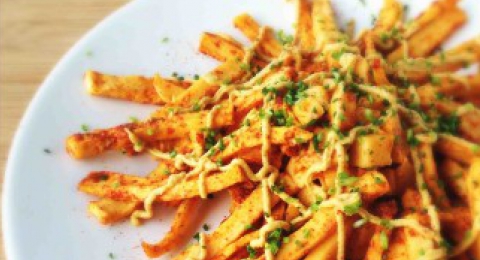 These Chili Cheese Turnip Fries are one of my favorite 'healthy junk food' snacks to enjoy with friends – or devour all by myself!
CHILI CHEESE TURNIP FRIES [VEGAN]
THIS RECIPE IS :
Dairy Free and Vegan
INGREDIENTS
Chili Cheese Sauce
1 cup of zucchini, peeled and roughly chopped
¾ cup of red bell pepper, roughly chopped
¾ cup of sunflower seeds
2 ½ tablespoons of nutritional yeast
2 tablespoons of lemon juice
1 heaping tablespoon of tahini
1 teaspoon of date paste (or other sweetener of your choice)
½ teaspoon of Himalayan crystal salt or sea salt
¼ teaspoon of turmeric
1/8 teaspoon of chili powder
Turnip Fries
2 cups of turnip, peeled and cut into fries
1 tablespoon of nutritional yeast
2 teaspoons of lime juice
1 teaspoon of paprika powder
1/8 teaspoon of Himalayan crystal salt or sea salt
1/8 teaspoon of chili powder
PREPARATION
Chili Cheese Sauce
Combine zucchini, red bell pepper, sunflower seeds, nutritional yeast, lemon juice, tahini, date paste, salt, turmeric and chili powder in the blender. Blend until smooth.
Turnip Fries
Cut your turnip into thin fries.
Place the turnip fries into a mixing bowl and add nutritional yeast, lime juice, paprika powder, salt and chili powder. Mix well.
Place on top of dehydrator trays lined with a Teflex sheet. Dehydrate at 115°F for 3 hours or longer.
Top with chili cheese sauce, paprika powder and finely chopped spring onion. Add fresh chili pepper if you like it really hot!
NOTES
This Chili Cheese Sauce will stay fresh for at least 3 days in an airtight container in the refrigerator.
• Don't like turnip? Replace it with other root vegetables such as carrot, parsnip, celeriac or yam.
By: Julie Van den Kerchove
Source: www.onegreenplanet.org
2014-11-04T11:47:07+00:00