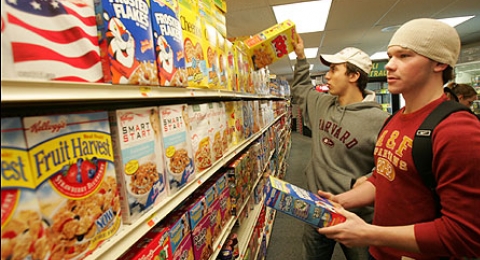 Thank you Food and Drug Administration, for finally removing trans-fats from the list of safe ingredients in our food. It only took 30 years, but hey, what's a decade or two between friends.
The FDA made the announcement yesterday, but there is still some paperwork that needs to be done before these heart clogging fats will be completely removed from our food supply. The FDA estimates 7000 lives a year can be saved by removing trans-fats from foods and using other oils.
Trans fat is found in shortenings, margarine, snacks such as crackers, candies, and cookies, fried foods, pastries and other foods prepared with partially hydrogenated vegetable oils. Even cereals like Froot Loops contain trans-fats!
Quick reminder:
Hydrogenation is the process of bombarding an oil's fat molecules with hydrogen atoms, making it more dense and raising its melting point, so that the oil becomes solid at room temperature.  An unfortunate side effect of this the creation of trans fatty acids. Partially hydrogenated oil means that the hydrogenation process stopped short of a full solid, reaching a more creamy, semi-soft, butter-like consistency. This is the story of margarine.
As early as the mid 1970′s studies showed how unhealthy trans-fats could be. But junk food companies pressured the government to not do anything about it. In the early 1990′s, when Congress enacted the Nutrition Labeling and Education Act, the FDA could have required trans-fats to be labeled, but it did not. In 2003, Trans fat labeling on food packages became mandatory, but companies got extensions until finally in 2006 all products were labeled with trans-fats information.
Yet despite the labeling requirement, consumers are still being duped. If a food serving has less than 0.5 grams of trans-fat, the label may state ZERO. Yes, that includes 0.49 grams in a serving size even a 2 year old would find ridiculously too small.
Please note that trans-fats are an artificial creation, but there are some trace amounts found naturally in meat and dairy products, called vaccenic acid. These will not be banned.
By: Hemi Weingarten
Source: www.fooducate.com
2013-11-08T14:58:05+00:00