Note: If you do not want to read another word of this article, at least take three minutes of your time to watch this YouTube video.
Whenever I have the chance, I like to tell people about the YouTube video of the CNN report on the Okinawa elderly. The video opens with a 90-year-old Okinawan woman climbing citrus trees and picking large baskets of fruit which she does daily for eight hours. The reporter shares how this woman has worked on her farm for 70 years and cannot remember ever being sick. The video then cuts to a community event where the elderly are literally running relay races around a track and dancing and singing.
As a health professional and author of "Staying Healthy in the Fast Lane – 9 Steps to Optimal Health,"this video drives home my point that chronic disease in America (and now worldwide) is the result of reduced physical activity and the culmination of the following five dietary changes and patterns over the last century:
Increase consumption of meats and animal foods
A dramatic increase in added fats and oils
A continued, steady increase in calorie sweeteners
Excessive cheese consumption
An increase in refined grains
What's truly fascinating about the elderly in Okinawa is that their lifestyle is in direct contrast to the rest of the world. While so many of America's elderly are relegated to senior care facilities, the Okinawan elderly are a vibrant part of their community where they are thriving. It's important to note that these people are extremely physically active. They also eat a diet very low in fat, salt and sugars. In fact, as shown in the video, the traditional Okinawan lunch plate consists of fruit, dark leafy vegetables and tofu. So, while chronic diseases are running rampant here in America, in Okinawa – particularly in the elderly community — they are unheard of.
Dr. Craig Willcox, a gerontologist who is featured in the video is the co-author of what I consider to be two of the most important health books of our time, "The Okinawa Program: How the World's Longest-Lived People Achieve Everlasting Health – and How You Can Too" and "The Okinawa Diet Plan".These books are truly the blueprints for changing your health and viewpoint on how to age well. I also highly recommend you read them. As Willcox indicates in the video, "there's a tremendous amount of control people can have over these [chronic] diseases if they live the right lifestyle." Clearly, the Okinawan elderly are doing something quite right.
Unfortunately, while Okinawa's elders are living by the traditional lifestyle and functioning well into their 80s, 90s and 100s, at an alarming rate the "younger" middle age generation in their 30s, 40s and 50s are now suffering from those same chronic diseases that many Americans are dealing with. How can this be?
Well, take a look at this 4-minute video of CNN's program Vital + Signs. It's evident that the western diet and lifestyle (lack of physical activity) are the real culprits in this new epidemic of chronic diseases in Okinawa. It doesn't help matters that Okinawa has the highest amount per capita of fast food restaurants in Japan due to westernization in part from the U.S. military bases established there. For the younger Okinawans, their struggles with weight and chronic diseases are a direct result of America's influence and the rapid change in their cultural environment. By mimicking the western habits of poor diet and physical inactivity instead of following their elders' traditional lifestyle habits, sadly the younger generation of Okinawans aren't living as long as their elders.
Watching the 90-year-old Okinawan woman climb trees to pick citrus reminded me of an interview I conducted with a long-time friend of my mother's named Dorothy Rossi. Dorothy is also in her 90s. When I first called her to see if I could come by her vineyard to do an interview with her, she answered her phone from a ladder in the middle of her orchard as she was picking pears off a tree!
When I asked Dorothy what's new, she informed me that she had been spending several weeks moving chopped wood. This 90 year old woman had been loading the wood into her pick-up truck, driving it to her barn, climbing into the back of the truck and then tossing the wood into a stack inside the barn. Amazing when you think about it as most of us wouldn't care to do that type of physical exercise no matter what our age. In addition to all the manual labor she does in the upkeep of her 24 acre vineyard, Dorothy also has continued with her egg business in which she manages 50 chickens.
I think it's important, just like with the study of the Okinawan elderly, to take a look at how Dorothy lives. Her daily routine consists of getting up at 5:00 a.m. She has a cup of coffee and reads the paper. As soon as the sun rises, she is off to the chicken coup to take care of her chickens. She then comes back and eats a breakfast of oatmeal, raisins and a splash of nonfat milk. Afterward she heads back out to continue working. Then at around 11:30 a.m. she comes in again and has her usual "chard sandwich" on whole grain bread with mustard and an onion. Dorothy says occasionally her chard sandwich is a tuna sandwich. After lunch she'll snack on fruit and/or cottage cheese. Once she's through with her lunch, she heads back out to work on the farm until 5:30 p.m. She caps the end of her day by watching the news and eating her usual dinner which consists of a three bean mixture baked with catsup. She also makes sure to have a side salad or vegetables.
Some nights for dinner Dorothy will prepare a little pasta, which she eats with either chopped garlic and olive oil or her cream sauce (a tablespoon of flour, a tablespoon of butter and some nonfat milk). Once a week Dorothy allows herself to have a chicken breast, which she'll often split into two meals. She may also have some salmon. Dorothy also told me that she doesn't eat the eggs she raises nor red meat. She also doesn't eat sweets regularly. Another important fact: she makes sure she is in bed by 9:00 p.m.
When I asked what keeps her going? Dorothy said, "I love to work. I like to accomplish things." A huge driving force that keeps her busy is that she couldn't bear to see the place where she has lived for 90 years not be kept up in the manner in which she is accustomed. Another interesting point to note is that Dorothy, even her 90s, still drives! Although she doesn't drive in the big city (San Francisco) anymore, she still logs in about an hour and a half a day of driving time. In an effort to conserve fuel she says she has to watch her speed so she keeps it down to "65 miles per hour"!
Though Dorothy and the Okinawan 90 year-old woman who climbs the citrus trees are half-way around the world from each other, they show tremendous similarities in the way they live. Their daily routines indicate they live their lives with a deep sense of purpose and they're driven by their love of work, physical activity. It's imperative to them that they are active. They are also the prototype for how to age healthily. Believe me, it's not genetics that have helped these women make it to their 90s. It's their lifestyle. None of us have any excuses. The time is now to change the way we maintain our own health. The nutrition and exercise data are there. The examples of successfully aging cultures living with minimal chronic disease are there. All that is left for us to do is just do it! So I'm calling each one of you out right now. Until the next time, be and stay well. Or, as Dr. Spock says, "live long and prosper!"
---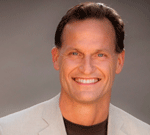 As a certified physician's assistant specializing in nutrition, prevention and integrative medicine, KIRK HAMILTON maintains that if there's one cure all for chronic disease it's what you eat. With his emphasis on consuming more unprocessed, micronutrient dense plant-food along with simple cross-training and mind/body principles, Kirk has been instrumental in guiding his patients and clients toward the path of optimal health since 1983. He has also been a valued educator to health professionals. As the founder of Clinical Pearls Publications, Kirk provided summaries of nutritional research to practicing physicians and researchers around the globe until he sold the company to Tishcon Corp. in 2004. Since 2009 Kirk has hosted his own radio program/podcast titled Staying Healthy Today. He has interviewed hundreds of the top experts in the medical field including Joel Fuhrman, Dr. David Jenkins and Dr. Neal Barnard. Drawing on his 28 year career, in August 2011 Kirk self-published the book titled "Staying Healthy in the Fast Lane – 9 Simple Steps to Optimal Health." His book serves as a guide for individuals, professionals and policy makers on how to create a new health paradigm that is focused on staying well and prevention instead of treatment.
Follow Kirk!
www.prescription2000.com

The greatest medicine of all is to teach people how not to need it.
Read about how to lose weight and prevent chronic diseases by purchasing Kirk's book, "Staying Healthy in the Fast Lane – 9 Simple Steps to Optimal Health." Order your copy here. Enter code "RX40" and receive an automatic 40% off your book purchase.
Dherbs Solutions:
2015-08-27T12:03:29-07:00