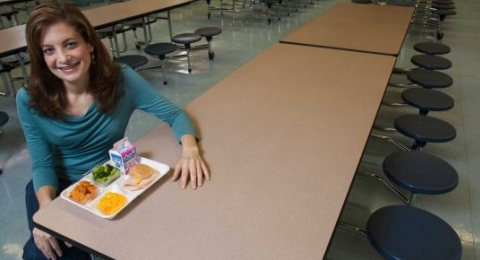 There is a dirty war going on behind the scenes of America's school lunches. The School Nutrition Association, an organization that represents the "lunch ladies" and school nutrition directors has been overrun by corporate interests. It is now actually fighting against improvements in school nutrition.
In a recent position paper, the SNA suggested that certain nutrition requirements for schools be relaxed. More specifically, the SNA wants more junk food to be available in school lunches, is fine with increasing the sodium allowance, and sees no reason why fruits and vegetables should be served at every school meal. This is nothing short of a travesty.
Thankfully, organizations and parents are fighting back. One of the bravest is Bettina Siegel, who runs the Lunch Tray blog. A few years ago, it was Siegal's petition to remove Pink Slime from school lunches that went viral and garnered national media attention.
Bettina has just published a 40-page ebook "devoted to the number one complaint I hear from you most often: the unwelcome influx of junk food into your child's classroom."
In The Lunch Tray's Guide to Getting Junk Food Out of Your Child's Classroom, she addresses a wide variety of topics including:
how wellness policies and the new federal "Smart Snacks" rules relate to classroom junk food;
the tricky problem of birthday treats and how to respond to your opponents on that issue; the use of junk food as a classroom reward;
the use of candy as a teaching "manipulative;"
kids and sugar consumption;
and much more.
If you have school-aged kids, do yourself a favor and get this book at thelunchtray.com.
By: Hemi Weingarten
Source: www.blog.fooducate.com
2015-08-27T12:03:28+00:00