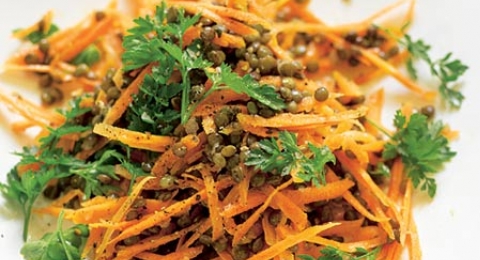 Indian cuisine is my favorite of all time. There are always plenty of plant-based dishes to choose from and I love how they turn vegetables and legumes into the most delicious dishes by adding colorful spices and herbs. This Green Lentil Salad with Spiced Carrots is based on a classic French dish but I changed a thing or two and infused it with Indian flavors. It makes a perfect light lunch or a tasty side dish.
GREEN LENTIL SALAD WITH SPICED CARROTS [VEGAN, RAW, GLUTEN-FREE]
THIS RECIPE IS :
Dairy FreeHealthyHigh FiberKid-FriendlyNutrient Dense RecipesRaw VeganSoy FreeSugar Free / Low SugarVeganWheat Free
INGREDIENTS
Spiced Carrots:
2 large carrots, cut into long thin strips with a vegetable peeler/mandolin
1 small handful of raisins, roughly chopped (optional)
3 tablespoons of lemon juice
1 ½ tablespoon of Dijon mustard
1 tablespoon of extra virgin olive oil
1 tablespoon of maple syrup
1/8 teaspoon of ground cumin
1/8 teaspoon of garam masala
1/8 teaspoon of Himalayan crystal salt or sea salt
Freshly ground black pepper, to taste
Green Lentil Salad:
4 small heads of Romaine lettuce, finely chopped
2 cups of baby spinach
1 cup of green lentils, soaked overnight and cooked until tender
2 stalks of spring onion, finely chopped
2 small handfuls of fresh parsley
2 small handfuls of fresh mint
2 small handfuls of fresh cilantro (optional)
PREPARATION
Spiced Carrots:
Turn your carrots into long strips using a vegetable peeler or mandolin. Put them in a mixing bowl. You can choose to grate, shred or spiralize your carrots too, but I prefer a crunchier texture in this salad.
Roughly chop the raisins and add them to the mixing bowl.
Take a glass jar and add lemon juice, mustard, olive oil, maple syrup, cumin, garam masala, salt, and black pepper to taste. Close the lid and shake well.
Add the dressing to the mixing bowl and stir well. Set aside so the carrots and raisins can soak up all the flavors.
Green Lentil Salad:
Combine Romaine lettuce, baby spinach, green lentils, spring onion, parsley, mint, and cilantro in a large mixing bowl.
Add the spiced carrots and stir well. Bon appétit!
Source: www.onegreenplanet.org
2015-06-04T16:17:57+00:00