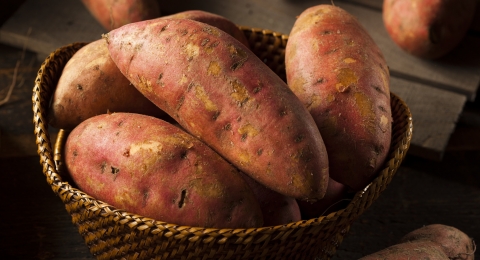 For some unknown reason that defies both logic and good taste, sweet potatoes, for far too long, remained a sort of forgotten food. They made it to the dinner table once or twice a year for the annual discussion as to whether sweet potatoes and yams are the same thing. (Nope! In fact, they are not even really that similar.) Odds are actual yams have never featured in Thanksgiving dinner, so all this time it was sweet potatoes that were doused in marshmallows and brown sugar syrup.
Of course, the sweet potato has made quite the comeback in the last decade or more. They busted into the French fry market, becoming the trendier, possibly even tastier, choice. They started showing up baked and on the side, an option more nutritionally reasonable than regular old potatoes. Then, just generally, with this bit of exposure, establishing that they can function as more than your aunt's Christmas casserole, sweet potatoes were officially on the scene.
Now, it's time to put them in the garden, and here's why.
Good Gardening! Sweet Potatoes Are Amazing.
For those out there who are taking on the mission of turning their yard into an edible garden, sweet potatoes are most definitely an ally on the mission. Sweet potatoes, a tropical plant, are into warm weather, able to withstand heat waves and even droughts. They have few pests that will decimate them, and they are not disease prone. They are easy to grow and spread like mad to create an amazing groundcover, which will help to protect soil from drying out. What's more is that they are nitrogen-fixing crop, naturally providing the soil with nitrogen, helping to enrich fertility rather than sapping it.
They aren't just good as food. They are great for the garden itself.
What You'll Need to Start Your Sweet Potatoes
Sweet potatoes don't actually grow from seed but rather a slip, or sprout, that forms off of old sweet potatoes. If you've ever grown an avocado from seed, the beginning process is similar. Poke a small sweet potato with three toothpicks and put the skewered potato atop a glass so that the bottom (fatter end) is hanging into some water. Within days, the potato will start to sprout little white roots at the bottom and develop sprouts at the top. Wait until the sprouts are a few inches long, then pull them from the base and free them from the potato. Stick the sprouts into their own jar of water and, once they form their own roots, at least a couple of inches, they are ready for planting.
It's also possible to buy slips from a garden center, but that would take a lot of fun out of the process.
Getting from Slip to Sweet Potato (and Back Again)
After that, sweet potatoes are resilient and fairly maintenance-free plants. They prefer about eighteen inches of space and want well-draining soil, such as one would find in raised beds. Water them well right after planting, after which they should be able to fend for themselves. Provide them with a good, thick mulch at the beginning. This will help to keep the weeds at bay until the vines simply cover everything and prevent most weeds from coming up. It will take the potatoes about three or four months to get to where they need to be, or where a hungry grower needs them to be. Dig them up with a garden fork, careful to prevent bruising them too much.
Once the first crop is in, there is the potential for subsequent sweet potato crops to be started. Simply save the smaller potatoes to start the next round of sprouts.
Who Knew You'd Need a Cure for Sweet Potatoes?
Assuming your sweet potato yield is of substantial proportions (or that you need to save some for next season's plant), you'll need to cure some of the sweet potatoes for storage. Essentially, curing them means encouraging a second, protective skin to cover them over. This can be done by keeping them in a warm, moist spot for a few days after harvesting them. Monitor them to insure they don't get too hot and start rotting. Then, they should be stored as one would potatoes or onions, in a dark, cool place until it's time to eat or sprout them.
At this point, you are a self-sufficient gardener of sweet potatoes, and life should feel a bit better and more under control.
2015-05-20T12:35:45+00:00