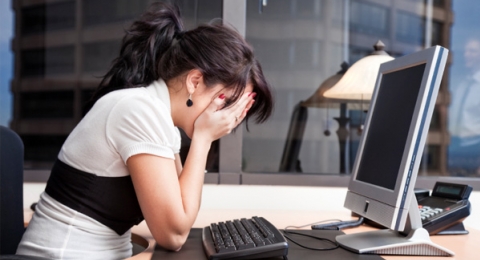 The way we work just isn't working. Perhaps nobody knows this better than Tony Schwartz, CEO of The Energy Project and author of Be Excellent At Anything, who has built his career around transforming the way we live, work and use our energy.
In our "culture of distraction," many of us live and work with divided attention and depleted energy resources, largely thanks to the unrelenting siren song of technology and social media. Here are some sobering statistics: Two-thirds of mobile users check their phone for messages, alerts and calls even when it's not ringing or vibrating,according to Pew research, and the average smartphone user checks their phoneevery six and a half minutes (that's up to 150 times a day). A 2010 AOL survey even found that 59 percent of mobile users check their email from the bathroom.
According to Schwartz, we've crossed the line of being able to effectively manage all of the information that's coming at us. He likens the brain on digital overload (and working memory in particular) to an overflowing glass of water.
Schwartz explains to The Huffington Post:
"It's like having water poured into a glass continuously all day long, so whatever was there at the top has to spill out as the new water comes down. We're constantly losing the information that's just come in — we're constantly replacing it, and there's no place to hold what you've already gotten. It makes for a very superficial experience; you've only got whatever's in your mind at the moment. And it's hard for people to metabolize and make sense of the information because there's so much coming at them and they're so drawn to it. You end up feeling overwhelmed because what you have is an endless amount of facts without a way of connecting them into a meaningful story."
In a recent New York Times op-ed, "Losing Our Way In The World," Harvard physics professor John Edward Huth argued that the Internet may have a greater effect on our sense of meaning than we realize. He explained that an over-reliance on technology has a tendency to encourage us to isolate pieces of information without fitting them into a broader cognitive schema.
"Sadly, we often atomize knowledge into pieces that don't have a home in a larger conceptual framework," Huth wrote. "When this happens, we surrender meaning to guardians of knowledge and it loses its personal value."
By: Carolyn Gregoire
Source: www.huffingtonpost.com 
2015-08-27T12:04:02+00:00