Have you been trying to incorporate more plant-based meals in your diet, but are having difficulty creating recipes? It can be a little daunting to charter unfamiliar territory because you may not know exactly what you can use. Rather than going crazy and immediately converting to a plant-based diet, try easing into it. This will help a lot. Meatless Mondays are a great way to start your plant-based lifestyle. We want to help you in your quest to be a healthier individual, and your goal to make the planet last longer, so we have provided you with breakfast, lunch, dinner, and dessert options to start your Meatless Mondays. If you want to go meatless for more than one day a week, go for it! If you have a favorite meatless recipe, let us know about it.
Breakfast:
Breakfast is one of the most important meals of the day, so start it off in a plant-based way! Start things out on the right foot and go with one of these three easy, simple choices.
Mango Pineapple Smoothie Bowl: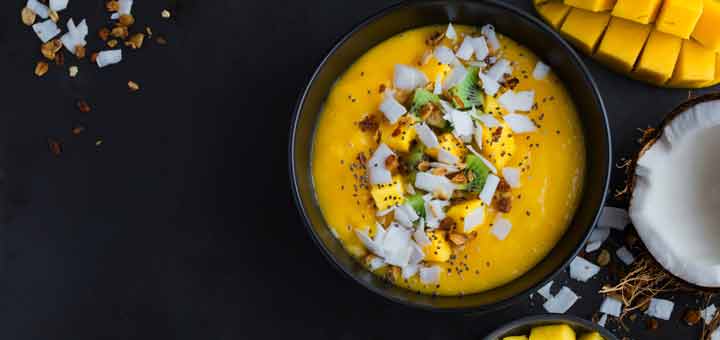 Sometimes you need to change up your breakfast game. A smoothie bowl is a great way to do that! This bowl contains ingredients that help speed up digestion and boost metabolism.
Click here to make the recipe.
Maple, Fig, & Tahini Overnight Oats:
It's nice to wake up and have breakfast ready for you to eat. That's what these overnight oats are for! It only takes about 5 minutes to prep them, and then you stick them in the fridge overnight to have a tasty and nutritious breakfast the next morning.
Click here to make the recipe.
Chocolate Avocado Smoothie That Tastes Like A Milkshake:
Smoothies don't always have to consist of strawberries and bananas. You can get creative with your smoothie and play around with flavors. That's why we love this chocolate avocado smoothie. The banana and avocado make it creamy, just like a milkshake.
Click here to make the recipe.
Lunch:
We love to eat big salads for lunch and go a little lighter for dinner. That is beneficial for your digestive system. Here are some hearty salads that have unique flavor and will become some household favorites.
Raw Rainbow Power Salad:
One of the best things about this salad is that every bite is filled with different textures and flavors. Remember, it is always beneficial to eat your colors, i.e. eat salads with a lot of different colored fruits and vegetables in them.
Click here to make the recipe.
Watermelon & Pineapple Salad with a Mint Dressing:
This is a great salad for summer. The freshness of the fruit is complemented by the herbaceous dressing. We definitely recommend adding the optional fruit to make a more filling and colorful salad.
Click here to make the recipe.
Shredded Kale & Broccoli Salad:
The stem of the broccoli is often discarded and not used. This recipe calls for that nutritional stem, so save the florets for another day. Make sure to peel the stem before shredding it. Enjoy this unique and tasty salad!
Click here to make the recipe.
Dinner:
Breakfast and lunch are typically the easier meals to go plant-based. When dinner rolls around, people seem to start craving some sort of meat or animal product. You don't need to crave those things because we have these super easy dinner ideas.
Raw Cauliflower Sushi Rolls:
The only hard part about this recipe is rolling the sushi. If you get a sushi mat, which only costs about $3, rolling the sushi is like a dream.
Click here to make the recipe.
The Vegan Enchilada Recipe You've Been Waiting For: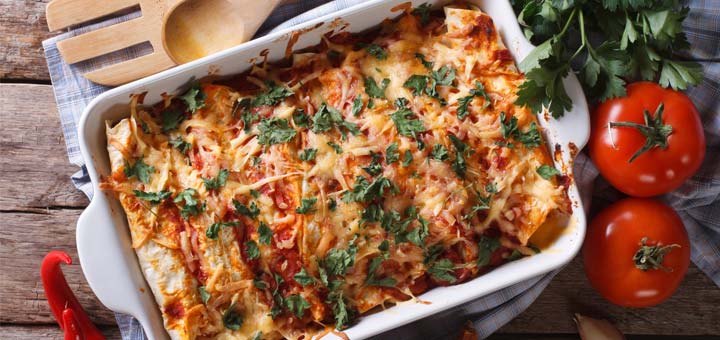 Is there anything better than diving into a saucy, cheesy, aromatic bite of enchiladas? There probably is, but you'll forget about it once you start eating this healthy, vegan recipe. If you have a few Latin spices that you enjoy, feel free to add them to dish.
Click here to make the recipe.
Spring Roll Bowls With Sweet Garlic Lime Sauce:
Spring rolls are usually an easy go-to appetizer, but they can be hard to make at home. That's why we've turned them into a delicious bowl that you can pack full with your favorite vegetables. It is mildly reminiscent of pho, but it has more vegetables.
Click here to make the recipe.
Dessert:
You didn't think we would leave you with no dessert recipes, did you? There are great plant-based desserts that are very easy to make. Try some of these and let us know how you like them.
No-Bake Key Lime Pie Bars:
If you don't have key limes to make this dessert, regular limes will suffice, but using key limes will give it that classic flavor you know and love; minus all the sugar and coloring, of course.
Click here to make the recipe.
Fresh Fruit Pops To Cool You Off:
Whether you want to make a healthy, refreshing dessert for your kids or just feel like indulging in some all natural sweetness, these popsicles are just the right dessert to cool you off as we head into the summer months.
Click here to make the recipe.
Raw Cinnamon Rolls:
Didn't think that it was possible to have a cinnamon bun while on a raw food diet? Well, these aren't like the ones you are used to, but they are full of nutritious ingredients that actually offer you a protein boost.
Click here to make the recipe.
2017-09-18T10:43:05+00:00