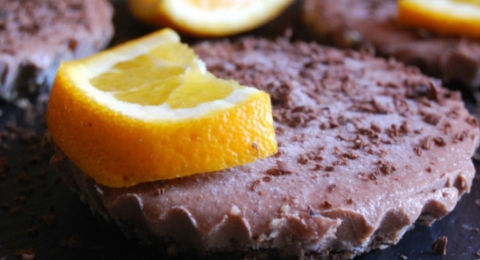 I decided to make mini cheesecakes because I felt they would look really cute and would be much easier to share. I currently have three or four still in the freezer waiting for me to tuck in too. I was worried because I didn't have mini springform cake tins, so I greased the tins I did have with coconut oil and these little beauties slid out with no problem! I took them to work and the feedback was great! Everyone was surprised at how fresh they were and how the orange really shone through the cocoa. Also by making them quite small and thin they were a nice size to eat without being too rich.
NO BAKE MINI CHOCOLATE ORANGE CHEESECAKES [VEGAN, GLUTEN-FREE]
INGREDIENTS
1.5 cups hazelnuts
1.5 tsp cocoa powder
10 dates
Zest of 1 orange
3 cups cashew nuts (soaked overnight)
2 tbsp cocoa powder
1/2 cup (6 tbsp) orange juice (squeezed from an orange not out of a carton)
3/4 cup agave syrup
1/2 cup coconut oil
1 tsp vanilla essence
Splash water
Dark chocolate and 1 orange for garnish
PREPARATION
To make the base blend the hazelnuts and dates together in a blender until you reach a moist crumb texture then add the cocoa and orange and mix well. Press this into the bottom of your cake tins or cheesecake dish. Put in the fridge whilst you prepare the rest.
To make the filling blend the ingredients together, add a splash of water if need be. Don't add too much water and don't worry if it takes a while to blend until smooth! Just keep blending!
Pour the filling into the cake tin over the base, smooth out and put in the fridge over night or put in the freezer for at least an hour.
Dark Chocolate to grate over the top and garnish with slices of fresh orange.
Source: www.onegreenplanet.org
2015-05-13T12:59:15+00:00