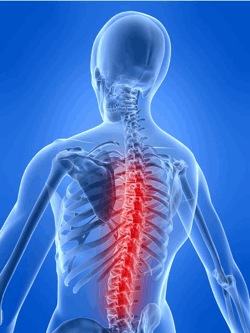 Multiple Sclerosis (MS) is a neurological disorder as the disease affects various parts of the central nervous system by way of destroying the myelin sheaths that cover the nerves. The destruction of the myelin sheaths leaves a form of scar tissues called plaque and this plaque destroys the nerves by hardening them, a process called "sclerosis."
With MS, you have a hardening of the nerves in the brain due to excess plaque and mucus, which dries up.
This plaque and mucus hardens up in the brain and on top of the myelin sheaths (protective nerve coverings) and because this plaque and mucus is acidic, it causes inflammation and the inflammation burns through the myelin sheaths and it is this activity that affects the nerves.
It is the equivalent of removing the plastic coating from wire exposing the copper. What happens if water gets on the copper of the wire, what happens, especially when what the wire is connected to is activated or turned on? Answer: It will affect the device that is activated by the wire and malfunction of the device will occur. With Multiple Sclerosis, there will be a malfunction with the human device (body).
Causes and Risk Factors
The exact cause of MS is not known, but there are several factors that contribute to it:
Immune system-even though MS is classified as a brain disorder, it may be caused by dysfunction in the immune system
Environmental-MS happens more frequently the farther populations are from the Earth's equator.
Infections-it's believed that childhood diseases may contribute to the development of MS later in life.
Genetics
Symptoms
The most common symptoms of MS are:
Fatigue
Numbness
Lack of coordination
Bladder and bowel issues
Vision problems
Dizziness (vertigo)
Pain
Emotional changes
Depression
Spastic movement
Natural Healing Solutions
According to the National MS Society, a combination of therapies focusing on function works best for many MS patients:
Physical therapy
Occupational therapy
Speech therapy
Swallowing therapy
Cognitive rehabilitation
Vocational rehabilitation
Other therapies known to be helpful to MS patients include:
Yoga
Hypnosis
Relaxation techniques
Meditation
Traditional herbal healing
Chinese medicine
Macrobiotics
Naturopathy
Dietary Intervention
Diet cannot be overlooked in Multiple Sclerosis. Acid creates mucus and nothing produces more acid or acidic byproduct waste than the big three of meat (Uric Acid), dairy, (Lactic Acid), and Starch (Carbonic Acid).
The sufferer of Multiple Sclerosis needs to say goodbye to consuming meat, dairy products, and refined grains and starches; in addition to sugar, salt, soda pop, wine/spirits, coffee, all products containing vinegar, and chemical additives (preservatives, flavor enhancers, etc.) to name a few.
Diseased conditions always help to be eradicated or healed when a raw foods and vegan diet and lifestyle is embraced.
Drinking vegetable juice (green veggies) daily will help to loosen up hardened mucus and plaque.
DHerbs Solutions
Dherbs.com products that can help include:
Thank you for reading!
This article is compliments of Dherbs.com
2015-08-27T12:04:01+00:00