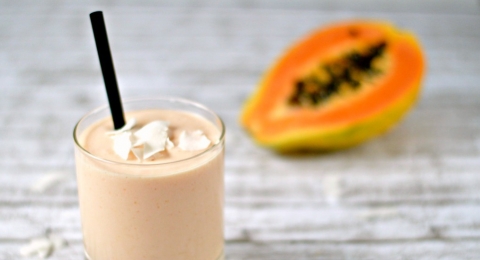 Extra thick, ice-cold and creamy, this papaya twist on pina colada is a refreshing, vitamin packed drink. Enjoy it as a morning smoothie or pour in some rum for a tropical party cocktail.
PAPAYA COLADAS [VEGAN, GLUTEN-FREE]
INGREDIENTS
1 medium papaya
1 cup frozen pineapple chunks (I used canned but fresh should do too)
2 cups light coconut milk (canned)
1 tablespoon sweetener of choice
optional: 2 ounces rum
coconut flakes for garnish
PREPARATION
Peel and roughly chop the papaya.
Put all ingredients (except for the coconut flakes) in a blender and blend until smooth.
Divide in two glasses, garnish.
Enjoy!
Source: www.onegreenplanet.org
2015-06-26T11:21:41+00:00