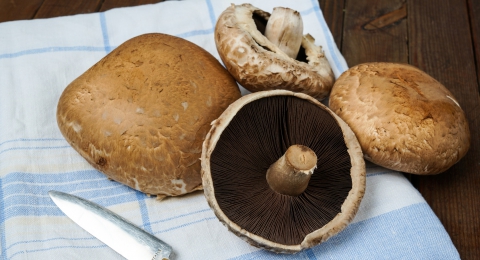 This juicy, Portobello steak will satisfy your cravings and fill you up. Sauteed with onions, balsamic vinegar, mirin, and herbs it's a compassionate alternative to eating our furry friends! See entire recipe at http://www.produceonparade.com/produce-on-parade/portobello-mushroom-steaks-wholefoods-giveaway
PORTOBELLO MUSHROOM STEAKS [VEGAN, GLUTEN-FREE]
THIS RECIPE IS :
Dairy Free, Nut Free, Paleo, Sugar Free/Low Sugar, Vegan and Wheat Free
INGREDIENTS
1 Tbsp. vegan butter
1/2 cup vegan vegetable or vegan beef broth
1/2 small yellow onion, diced
1 large garlic clove, minced
3 Tbsp. balsamic vinegar
1 Tbsp. mirin or sherry
½ Tbsp. soy sauce
½ Tbsp. tomato paste
1 tsp. dried thyme
½ tsp. dried basil
dash of ground black pepper
2 large, whole Portobello mushrooms
PREPARATION
In a large frying pan, heat the butter over medium. Once melted, add half of the broth and bring to a simmer.
Next, add the onion and garlic. Cook for about 8 minutes over medium-high.
Meanwhile, whisk together the remaining ingredients in a small bowl excluding the mushrooms and the remaining broth. Wipe the mushrooms with a damp cloth to clean them and pull off the stems.
Add the whisked mixture to the pan and reduce to medium heat. Bring to a simmer, and then add in the Portobello caps and their stems.
Cover and cook for about 8 minutes. Gently turn over the mushrooms, add in the remaining broth, cover and cook an additional 8 minutes.
Serve hot, topped with the juice and onions over top.
By: Kathleen Henry
Source: www.onegreenplanet.org
2015-01-07T12:34:42+00:00