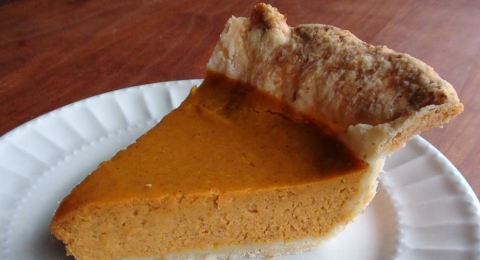 A pie that comes together to form a deeply satisfying creamy texture, along with the right autumny flavors and the right color.
PUMPKIN PIE WITH SPECULOOS CRUST [VEGAN]
THIS RECIPE IS :
Dairy Free and Vegan
INGREDIENTS
For the filling:
1 +1/2 can pumpkin puree
1.75 punches firm tofu
1-2 tbsp arrowroot powder (more makes the pie firmer–choose how gooey you like your filling)
3 tbsp maple syrup
1/3 cup coconut cream (or scoop the fat out of a chilled can of full-fat coconut milk, not shaken or stirred)
2 tsp mixed spiced (cinnamon, ginger, nutmeg and cloves)
1/2 tsp cinnamon
For the crust:
1 cup speculoos biscuits
1/3 cup vegan margarine or fat spread
PREPARATION
Pre-heat the oven to 180ºC.
Blitz the biscuits in a food processor until they have become a fine, sandy powder. Add the vegan margarine and keep on processing until the powder starts to clump together. Transfer to a buttered/lined springform pan and press the crust mixture down with your fingers, making sure it forms a solid base. Don't worry too much about pressing it to the sides. Leave it in the fridge to set while you get on with the filling.
In a food processor or blender, whizz together the tofu and maple syrup until you obtain a smooth paste. Transfer this to a mixing bowl and add the rest of the filling ingredients, using a spatula to fold them in. Have a taste to make sure the spices are to your satisfaction.
Bake in the oven for 45 minutes.
Do make sure to let the pie cool before you attempt to release it from the springform; while it is hot, the base will be fragile and the filling may not have set completely. Your patience will be rewarded in the end, I promise.
By: Clémence Moulaert
Source: onegreenplanet.org
2014-09-25T12:01:54+00:00