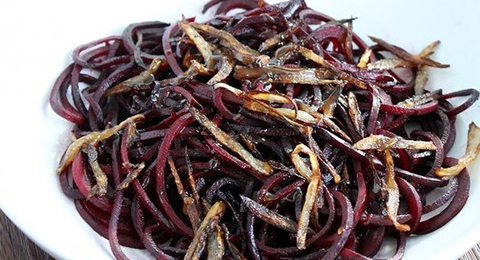 For this recipe, I used a flavorful vegetable noodle (beet) and tossed it with some vegan pesto sauce and threw in some baby kale for a bit of crunch and earthiness.
This meal comes together so effortlessly and can be easily customized, depending on your appetite. The beet really pairs well with the pesto here and the kale ties everything together for more texture and flavor. Plus, it's elegant, whole, unprocessed and fresh.
ROASTED BEET NOODLES WITH PESTO AND BABY KALE [VEGAN]
THIS RECIPE IS :
Dairy and Free Vegan
INGREDIENTS
2 medium beets, peeled, Blade C, noodles trimmed
olive oil cooking spray
2 cups baby kale
For the pesto:
3 cup basil leaves, packed
¼ cup of pinenuts
¼ cup of olive oil
½ tsp grinded sea salt
¼ tsp grinded pepper
1 large clove of garlic, minced
PREPARATION
Set the oven to 425 degrees. On a baking sheet, spread out the beet noodles and coat with cooking spray and season with salt and pepper. Bake for 5-10 minutes or until beets are cooked to al dente or your preference in doneness.
While the noodles cook, combine all of the ingredients for the pesto into a food processor and pulse until creamy. Taste and adjust, if needed.
Once beets are cooked, toss with pesto and the kale. Serve.
By: Alissandra Maffucci
Source: www.onegreenplanet.org
2014-09-18T11:51:58+00:00