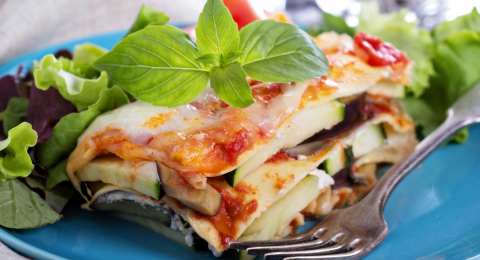 I love lasagna. It's perfect for entertaining, a cool fall day, the picky eater, the casserole lover and the comfort food connoisseur. The ingredients that make this lasagna perfect are red pepper flakes, fresh oregano, and cumin. These ingredients make the perfect zing, like a gorgeous pop of color for the tongue. You have to try it!
THE BEST 9 VEGETABLE LASAGNA EVER! [VEGAN]
THIS RECIPE IS :
Dairy Free, Kid-Friendly and Vegan
INGREDIENTS
1 package of lasagna noodles
2 jars of arabiata tomato sauce (I used Rao's Arabriata Tomato Sauce. If using regular tomato sauce, be sure to add red pepper flakes to it.)
3 packages of vegan cheese (I used Both Follow Your Heart and Daiya Mozzarellas), shredded
Steamed and Pureed Vegetables:
1/4 onion
1/4 cup broccoli
1/4 cup carrots
1/4 cup cauliflower
1/2 cup zucchini
1/2 sweet potato
1/2 cup spinach leaves (add after the rest are steamed)
1/3 cup frozen peas
Vegan Ricotta:
16 oz firm sprouted tofu
2 tsp cumin
1 tsp dried rosemary
2 tbsp fresh basil
1 tbsp fresh Italian parsley
2 tbsp fresh oregano
2 tbsp freshly squeezed lemon
1 tsp apple cider vinegar
2 tsp extra-virgin olive oil
1 elephant garlic clove
2 garlic cloves
3 tsp nutritional yeast
1/2 tsp himalayan sea salt
PREPARATION
Preheat the oven to 450°F
Steam the onion, broccoli, carrots, cauliflower, zucchini, sweet potato until soft (about 10 minutes)
Add the spinach leaves and finish steaming until just wilted (about 3 minutes)
While the vegetables are steaming: Pour 1 jar of tomato sauce into a large bowl
Puree the ricotta ingredients and add to the tomato sauce
Puree the steamed vegetables and add to the tomato sauce. You should now have the ricotta, tomato sauce, and the steamed vegetables all stirred together.
Add a thin layer of tomato sauce on the bottom of your pan
Layer the lasagna noodles so they are overlapping a 1/2 inch for each noodle
Spread a layer of cheese on top of each noodle
Spread a layer of sauce
Repeat until all of your ingredients are gone
Top with cheese and sauce, put foil on the top of the casserole, and put it in the oven!
I take the 2nd jar of sauce and pour half on top of the lasagna and serve the other half in a bowl for dinner.
After 1/2 hr, reduce the cooking temperature to 350°F.
Cook an additional half an hour up to a full hour, then let it rest for 15 minutes before slicing. Mangia! Mangia!
By: Michaell Johnson
Source: www.onegreenplanet.org
2015-01-23T10:52:41+00:00