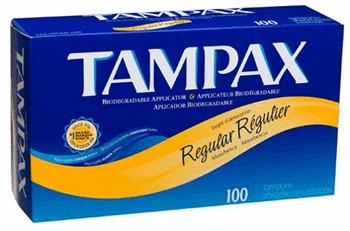 Toxic Shock Syndrome (TSS) is a severe acute disease caused by infection with strains of Staphylococcus aureus (phage group 1) that produces a unique toxin, enterotoxin F. It is most common in menstruating women using high-absorbency tampons.
Symptoms of Toxic Shock Syndrome
The onset of the syndrome is characterized by:
sudden high fever
headache
sore throat with swelling of the mucous membranes
diarrhea
nausea
erythroderma
Acute renal failure, abnormal liver function, confusion, and refractory hypotension usually follow, and death may occur.
Toxic Shock Syndrome was originally linked to the use of commercial tampons, but is now also known to be associated with the contraceptive sponge and diaphragm birth control methods. Toxic Shock Syndrome has also resulted from wounds secondary to minor trauma or surgery incisions where bacteria have been able to enter the body and cause the infection. Therefore, it is safe to say that TSS is also an idiopathic disease, a disease that you get while visiting a hospital.
Types of Toxic Shock Syndrome
There are two types of Toxic Shock Syndrome:
Toxic shock syndrome
Streptococcal toxic shock syndrome
Toxic Shock Syndrome
Toxic shock syndrome is caused by Staphylococcus aureus bacteria and has been associated with the use of female sanitary products, specifically tampons.
Although the exact connection is still not clear according to medical authorities, researchers suspect that certain types of high-absorbency tampons provided a moist, warm home where the bacteria could thrive. It very well may have been related to the rayon purposely put in tampons.
Toxic Shock Syndrome can affect anyone who has any type of staph infection, including pneumonia, abscess, skin or wound infection, a blood infection called septicemia, or a bone infection called osteomyelitis.
Streptococcal Toxic Shock Syndrome
Streptococcal toxic shock syndrome (STSS) is caused by streptococcus bacteria. Most often, STSS appears after streptococcus bacteria have invaded areas of injured skin, such as cuts and scrapes, surgical wounds, and even chickenpox blisters. It almost never follows a simple streptococcus throat infection (strep throat).
Five percent of all cases of Toxic Shock Syndrome are fatal. However, the case fatality rates for menstrual-related STSS have declined as awareness has improved.
Prevention Techniques
The best thing a woman can do to prevent Toxic Shock Syndrome is to stop using commercial tampons and/or pads.
The vagina is a breathing organ. It must breathe, but when you wear tight clothing almost all the time, including tight underwear and tight pants, you smother the vagina and the lack of oxygen results in vaginal atrophy and the vagina begins to degenerate. So let her breathe every once in a while if not daily. You don't have to stop wearing jeans, just find a balance between tight and loose clothing.
Pads are always safer than tampons. DHerbs recommends that women do not use tampons at all.
Alternatives to Commercial Tampons and Pads
2015-08-27T12:03:29+00:00