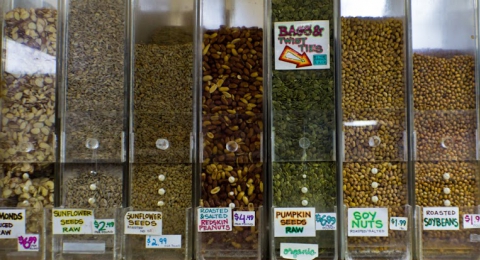 Beta-blockers, ACE inhibitors, statins….for the first 20 years of my cardiology practice these were the tools of the trade I used to treat medical issues. I was a strong advocate of plant based diet for heart reversal but the power of specific whole food items was never presented at medical meetings (nor were healthy items served at those meetings!). I am now a serious student of the role of food as information to our body and specifically to our genes, called nutrigenomics. I was reading about seeds recently and was amazed to learn of their benefits in peer-reviewed medical studies.
Here are a few morsels of science to wet your health appetite about seeds:
1. Ground flax seeds lower blood pressure. In a randomized six month study of the effects of 30 gms daily of milled flaxseed on blood pressure, the seeds reduced systolic blood pressure on average 10 mg Hg and diastolic pressure by 7 mmHg, a substantial reduction equivalent to a medication. In the subgroup that started with elevated blood pressures the average drop in systolic blood pressure was 15 mmHg, astounding!
2. Flax seeds may improve blocked arteries. In a rabbit model, adding 10% flax to a high cholesterol rabbit chow led to a 40% reduction in plaque development and improved artery function on testing. If this translates to humans it would be an amazing benefit.
3. Flax seeds reduced blood sugar and cholesterol. In an open label study of diabetics, adding 10 gm of flax powder for a month lowered blood sugar and cholesterol by about 15%.
4. Chia seeds raise blood EPA levels. EPA is one of the essential fatty acids in our diet and many people seek animal based sources like fish oil or krill oil. Adding 25 grams daily of chia seeds to the diet of post-menopausal women raised EPA levels by 30% while DHA levels did not go up.
5. Chia seeds improve markers of diabetes and inflammation. In a study of 20 patients with diabetes, adding 37 gms daily of chia seeds reduced measures of diabetes, blood pressure, blood clotting, and C-reactive protein.
6. Chia seeds may help lower weight. In a study of over 30 patients with metabolic syndrome, adding a mixture of nutrients including chia seeds led to weight loss and an increase in adiponectin, a hormone that helps prevent obesity.
7. Sacha inchi seeds are a great source of protein and omega 3 fatty acids. In a study of the oil of this South American seed high in omega-3 and protein, daily use lowered blood pressure, cholesterol and LDL cholesterol and raised LDL cholesterol.
The ability of whole food, plant based foods to have positive health impacts cannot be overemphasized in a society where highly processed foods make up 2/3rds of the calories of most citizens. Seeds should be on the checklist of functional foods that have favorable health effects. It is no light matter as in a study of diabetic patients, intake of seeds was one of the food items associated with longer lifespan. The ancient Greek playwright Aeschylus wrote that "from a small seed a mighty trunk may grow". Over 2,500 years later the words still ring true.
By: Dr. Joel Kahn
Source: www.organicauthority.com
2016-01-15T12:06:12+00:00