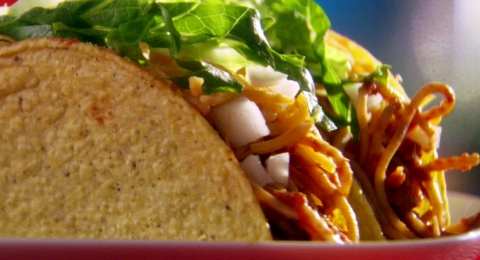 Taco night just got a whooooooole lot better.
I'd sub in zucchini noodles for the spaghetti noodles here. Then, I added in some corn, beans, olives and of course, a healthy dollop of avocado.
These are unbelievably delicious. They're a bit messy (like all hard tacos are) but they're well worth it. The key? Trim your noodles!!! Make sure the noodles aren't longer than 3″ each, so it'll be easier for you to eat (and your kids.)
VEGETARIAN ZUCCHINI SPAGHETTI TACOS [VEGAN]
THIS RECIPE IS :
Dairy and Free Vegan
INGREDIENTS
1 ear of corn
½ cup canned tomato sauce
1 avocado, peeled and cored
1 tablespoon finely minced cilantro
salt and pepper, to taste
2 medium zucchinis, Blade C, noodles trimmed
½ cup black beans
1 cup shredded lettuce (romaine or spinach works best)
Optional, if not using hard taco shells: 3 cups of shredded lettuce
6 yellow or blue corn taco shells
For the taco seasoning:
1/2 tablespoon chili powder
1/8 teaspoon garlic powder
1/8 teaspoon onion powder
1/8 teaspoon dried oregano
1/4 teaspoon smoked paprika
1 teaspoon ground cumin
1/4 teaspoon ground coriander
salt and pepper, to taste
PREPARATION
Place the corn in a medium saucepan and cover with water. Bring to a boil and once boiling, let cook for 2 minutes or until corn is easily pierced with a fork. Once done, drain into a colander and shave off corn with a knife. Set shaved kernels aside.
While the water is heating up, combine all of the taco seasoning spices together and whisk until thoroughly combined. Set aside.
Once the corn is done, heat a large skillet over medium heat. Once the skillet heats, add in the tomato sauce and pour in taco seasoning mix. Stir to combine and lower the heat, simmering for 5 minutes for the flavors to develop.
While tomato sauce is simmering, smash the avocado in a bowl, add in the cilantro and season with salt and pepper. Stir to combine and set aside.
Add in the zucchini noodles, corn and beans and cook for 2-3 minutes or until noodles are cooked through.
If using hard taco shells: Using pasta tongs, fill the taco shells with zucchini spaghetti mixture and top with olives, a dollop of avocado and a pinch of lettuce.
If not using hard taco shells: Fill a bowl up with shredded lettuce and top with zucchini noodles (using pasta tongs to let excess moisture drip off), then top with olives and a dollop of avocado. Repeat 3 more times to make 3 taco bowls.
*Check the ingredients on the taco shells – they should contain nothing more than water, corn (or masa) flour and/or oil.
By: Alissandra Maffucci
Source: www.organicauthority.org
2014-09-17T12:06:54+00:00